Exiled Afghan leader, and one-time U.S. ally, warns against "peace" with Taliban from position of weakness
ANKARA, Turkey – The colorful and controversial exiled Afghan figure who was once a potent U.S. ally - as his character is depicted in the recent Hollywood blockbuster "12 Strong - is speaking out against what he sees as efforts to cower to the Taliban while the group continues to gain bloody ground.
"Reconciliation with the Taliban should be handled from the position of strength, and not from the position of appeasement and weakness," former general and reigning Vice President Abdul Rashid Dostum told Fox News from his residence in Ankara, Turkey.
Dostum, an Uzbek who heads the National Islamic Movement of Afghanistan, was responding to a recent effort by Afghanistan President Ashraf Ghani's push to bring the Taliban into peace talks while the country continues to be crippled by almost daily terror attacks and suicide bombings.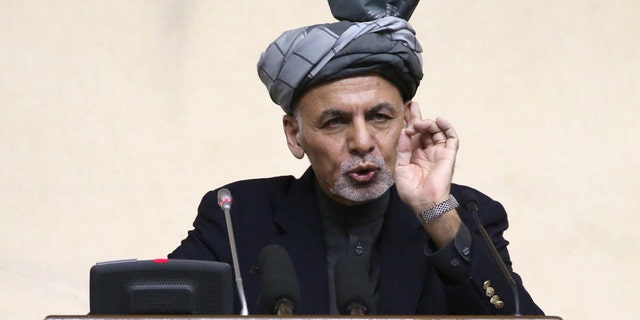 Ghani has offered "unconditional peace talks" to the Taliban, which is largely responsible for the deaths of some 3,400 NATO troops – at least 2,300 of which were Americans – in a protracted conflict that has cost U.S. taxpayers up to one trillion dollars since 2001.
NATO foreign ministers in April issued a statement saying they were "united in their support" for Ghani's political attempts to end the conflict. As part of those negotiations, incentives are being dangled at the Taliban – who skeptics contend are currently winning the war – ranging from recognition as a political party, to the release of some prisoners along with a ceasefire agreement.
The Taliban have ignored Ghani, which Dostum and others believe leaves the Afghanistan government in a weakened position.
"We can reach a peaceful settlement with Taliban, if we are determined to win the war," said Dostum. "So by softening the tone asking Taliban for reconciliation, we failed. And neither will it work in the future. The reconciliation policy must be from the position of strength and not weakness."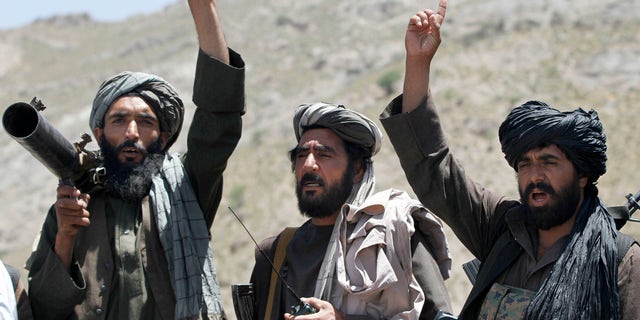 Dostum said he has a six-month plan to squash the terrorist threat in Afghanistan – starting with an effort to sweep out Taliban elements in the north of the country.
"We warmly welcome President Trump's strategy, which shows U.S. sustainable commitment for a stable Afghanistan," he said. "But the presence of large numbers of U.S. troops on the ground and air strikes will not help to achieve the goals, unless the U.S. engages with our local population who are willing and effective to fight terrorism on the ground."
That strategy was championed as having worked well in late 2001 as Dostum, the CIA, U.S. Special Forces and massive airpower propelled the Taliban to a surrender in the North. That sparked the national offensive against the Taliban that eventually swept them entirely out of power.
And while Dostum wants to get his detailed "negotiate when you are strong, not weak" policy to the Trump administration, he is banned from traveling to the U.S.
Dostum quickly fell from the U.S.'s good graces after allegations emerged in 2002 that his militia had jammed hundreds of Taliban prisoners into shipping containers and killed them, by suffocation or shooting them.
Human Rights groups accused the Bush administration of failing to adequately investigate the deaths. The Obama administration never published results of an investigation into the matter, and charges were never filed by the Afghan government.
Further allegations arose in 2016 when a former governor accused the men in Dostum's ranks of abducting and sexually assaulting him. Dostum left for Turkey in May last year for medical treatment, and was not allowed to land his private plane back in Afghanistan.
He has since dismissed the latest charges as fabrications, circulated by political opponents seeking leadership of the Uzbek minority.
Citing privacy policies, the U.S. State Department declined to confirm if Dostum is still prohibited from setting foot to the United States.
DISCOVERY OF MASS GRAVES IN IRAQ A GRIM REMINDER OF ISIS SAVAGERY
U.S. FORCES IN SYRIA AIM FOR LOW PROFILE, AND HIGH-POWERED RESULTS
'12 STRONG' PRODUCER JERRY BRUCKHEIMER WAS INSPIRED BY REAL-LIFE US SOLDIERS
Undeterred by the murky diplomatic circumstances, in his interview Dostum spoke with fondness of his experience with the U.S. in the campaign to drive the Taliban from power. He specifically recalled what he said were the final moments of CIA contractor and former Marine Johnny "Mike" Spann, the first American casualty in the Afghan War.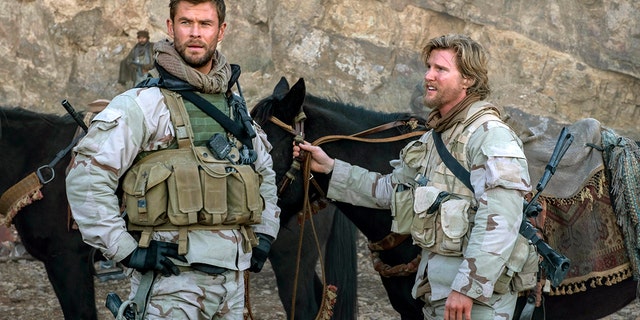 Spann was killed in the battle involving a Taliban jail breakout in Qala-i-Jangi on Nov. 25, 2001. According to Dostum, Spann died heroically, shooting and eventually grabbing out at his attackers in an effort to stop the deaths of others. The memory is one that still visibly moves the hardened military man, rendering him speechless for some moments.
During the interview, Dostum turned to signing a batch of posters for the movie "12 Strong" - which he said were intended for U.S. military troops. Dostum is a key character in the movie, which details the actions of the first U.S. forces slipped into Afghanistan after the 9/11 attacks.
Despite his character's critical role in the film, Dostum said has yet to see it.
"I know this is a Hollywood entertainment film with so many fictions and exaggeration," he noted. "Still, I hope that the film will convey a strong message to the American people that, General Dostum and his people in Afghanistan, received a dozen U.S. Special Forces in Afghanistan and side-by-side they fought."
Yet even from the abundance of his sprawling Ankara palace, Dostum is hopeful he can soon return to the place he said he feels most comfortable: on horseback, fighting in the northern mountains of his homeland.
"I defeated Taliban and Al-Qaida with U.S. forces and U.S. air support, in just less than two months," he added. "I'm the same Dostum and I always here to be your partner to address any challenges, - with less U.S. blood and treasure."