EXCLUSIVE: Iran had military presence in uranium-rich area of Venezuela, former general says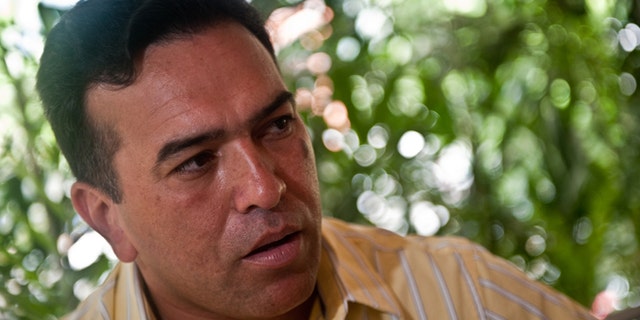 WASHINGTON – The Venezuelan government's close ties to Cuba and Iran pose a real threat to its sovereignty, and to the security of the hemisphere, retired Brig. Gen. Antonio Rivero, a former insider in the government of Hugo Chávez, told Fox News Latino during a visit to Washington, D.C., this week.
Rivero held high-profile positions under Chávez – from 2003 to 2008, he was the director of the Civil Protection and Disaster Relief agency – until he refused to chant "Socialism, Fatherland or Death," a pledge emblematic of the Cuban Revolution that was imposed unexpectedly as part of the official military salute.
After that he was shipped off to the Amazon, literally, as the chief of staff of the 5th Division Jungle Infantry.
During his military career, Rivero worked with many officers who have been promoted to high public offices under Maduro, and he confirmed that he knows the seven military officers sanctioned on Monday by President Obama.
He explained that none of the military officers sanctioned by the U.S. had ideological ties to the chavista movement before assuming public offices in the government.
"Many of these officers were initially good professionals, who became victims of the system," Rivero said, "but were not really part of the hard line of military command. They simply followed orders, betrayed their principals, kissed up to their superiors, and got promoted."
He also said that to his knowledge at least one, Gustavo Enrique González López—the current head of the Bolivarian National Intelligence Service (SEBIN) and Rivero's former Army boss—opposed Chávez before he became president..
Now in exile, Rivero has been a prominent critic of the administration of President Nicolás Maduro who advocates for political prisoners in Venezuela, many of whom are dissident military officers like himself.
"There are many active and retired military officers that oppose Maduro´s government," Rivero added. "I would say 20 percent are in favor and 80 percent against the regime, but it is difficult and dangerous for them to express dissent."
Rivero fell afoul of the Maduro government in 2013 after accusing a loyalist group of government officials of secretly allowing Cuban advisors to penetrate the country's national-security apparatus by infiltrating the Armed Forces' communications and weapons systems.
He was charged with promoting unrest during the 2014 antigovernment protests, after which he remained a fugitive and in hiding, until last month, when he held a press conference in New York.
While still on active duty, Rivero was a first-hand witness to how Venezuela progressively established closer connections to Iran and Cuba, countries designated by the U.S. as sponsors of terrorism.
About a decade ago, as the commander of a post in Bolívar state, 360 miles south of Caracas, Rivero saw Iranian military troops in the area.
He believes they were involved with the extraction of uranium.
His claim comes at a time when the U.S. and European nations are trying to work out a deal with Iran about its nuclear program. Iran has repeatedly denied that it is trying to build nuclear weapons, a claim that is viewed skeptically by many lawmakers in D.C.
"Tractor and automobile plants were built in areas that had easy access to uranium extraction," Rivero said, referring to the municipalities of Heres and Caroni. "I found clues that indicated the plants probably served as commercial smoke screen to hide the extraction of uranium."
Rivero admits that he has no physical evidence. "All I saw were the official invoices that approved transactions for spare parts for tractors and cars," he said, "but I can confirm that at the time there was Iranian military activity in Venezuela."
Rivero said he has not requested asylum to the U.S., but he would not comment on his current immigration status or on how he escaped from Venezuela.
While in Washington, Rivero met with officials from the State Department and Congress. A man without a country, he was trying to obtain a special travel permit that would allow him to travel to the United Nations Human Rights Commission in Geneva.
He hopes to be absolved from charges pending against him. There are two legal proceedings open against him in Venezuela, and his family back home is being targeted, he said.
He fears most for his younger brother, a union leader, who earlier in the week was a victim of an atraco, or an armed robbery, which are commonly "perpetrated by government mercenaries to silence or harass dissidents," Rivero said.
It's just another part of the government's campaign to suppress opposition. Dissidents, civilian or military, have suffered serious violations of human rights, illegal arrests—like that of Caracas mayor, Antonio Ledezma—and even torture.
According to Rivero, his former boss, González López, and the Speaker of the National Assembly, Diosdado Cabello, are panas—or buddies.

"It is Diosdado himself who protects him," Rivero said. "González López was my boss in Bolívar state. I believe he must have known about the uranium mines."
Rivero believes that Cabello chose González López to head the SEBIN because, as the agency's head, he has access to "all of the corruption files on every official under the Chávez government were kept there. Even Maduro had a file there."
Like us on Facebook