EXCLUSIVE: INS agent at center of Elián González saga would like to host him in the U.S.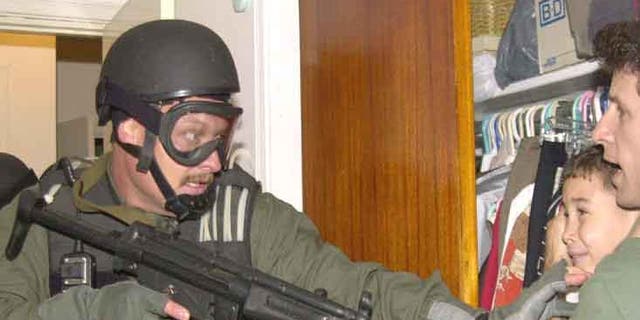 Fifteen years later, as relations between Cuba and the United States inch toward normalization, Elián González wants to come back to the States, at least for a visit. He said recently that he'd like to come as a tourist to see a baseball game, visit Washington museums and talk to ordinary Americans.
"For my family it has always been, we always have the desire to say to the American people, to show to each household our gratitude, appreciation and love that we have," he told Jim Avila of ABC News. "Perhaps one day we could pay a visit to the United States. I could personally thank those people who helped us, who were there by our side. Because we're so grateful for what they did."
One of those Americans eager to greet him is retired INS agent Jim Goldman, the machine gun-toting man whose picture discovering a terrified Elián being hidden in an uncle's closet is seared into history.
Now a private investigator, Jim told me that he and some of the others involved in Elián's forcible removal from his relative's home are in the process of extending an invitation to him from those who rescued him.
"The kid's going to be 22. It's been 15 years," Goldman said. "Now he's announced he wants to return, so a couple of us got together and reached out to him and said we would host him."
And how does Jim feel about that infamous picture of him rousting the uncle and terrified child back in 2000?
"At the end of the day, it wasn't the use of force but the show of force. Nobody got hurt. Now, frankly, I'd welcome him coming back. Cuba is opening up, cruise ships, airlines, casinos; they all want a piece of the action. The movement is huge and that the kid wants to come back for a visit is totally appropriate. And we agents involved in his rescue would love to be among those who welcome him back."
The poor kid. In 1999, Elián survived the nightmare crossing of the Florida Straits that killed his mother and 10 of the 12 other refugees on board their sinking boat, only to become the centerpiece in a bitter battle between those who wanted him to remain in the United States with Miami relatives and those who wanted him returned to his father in Communist Cuba.
Most non-Cubans, including the Clinton administration and the federal courts, believed the 6-year-old should be returned. On the other hand, most Cuban-Americans, including the actor Andy Garcia, the singer/entrepreneur Gloria Estefan and particularly the older, island-born generation of exiles, reflexively anti-Castro in all things, felt strongly that Elián should remain in this country.
When a federal judge dismissed the Miami relatives' petition for asylum filed on Elián's behalf, the mayor of Miami-Dade, Alex Penelas, joined 22 other officials and announced that the municipality would neither cooperate with federal authorities in the child's repatriation nor allow the local police to assist in any way in the boy's return.
Despite threats of violence, Elián was forcibly removed by heavily-armed federal agents in the predawn dark of April 22, 2000.
As the child was carried from his uncle's home, protesters taunted the feds with cries of "Assassins!" Civil unrest broke out in Miami's Little Havana as hundreds of enraged demonstrators burned garbage and jammed the streets of the neighborhood.
Elián was returned to Cuba after the U.S. Supreme Court refused to get involved. The boy's departure on June 28, 2000 left behind a severed connection between local Cubans and the national Democratic Party, which probably cost Al Gore the presidency.
Now Elián is preparing for his wedding in Cuba and says he might consider visiting the Miami relatives that sheltered him – if they admit they were wrong for doing so.
"He was an innocent bystander," Goldman said on Elián, "probably the last battle of the Cold War."
Jim can be contacted via his company website, JamesDGoldman.com