Ex-wife says she received ominous photo of Argentine prosecutor 2 days before his death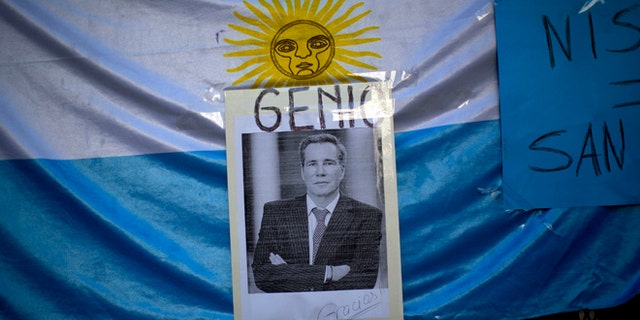 Two days before he was found dead inside his Buenos Aires apartment with a bullet wound to his head, Alberto Nisman's ex-wife said that she received a photo of the prosecutor with an ominous spot drawn on his forehead.
Sandra Arroyo Salgado, a judge and the mother of the former couple's two daughters, told investigators that on January 16 she received a message on her phone's WhatsApp application with a photo of the cover of the Argentinian news magazine Noticias, which featured her ex-husband.
However, this new chapter in the Nisman story is as or more convoluted as it was when the case started a few weeks ago. La Nación, one of the top newspapers in the country, reported that the woman got that first communication from Nisman himself, or his WhatsApp account anyway. (Arroyo and her daughters were vacationing in Europe at the time.) Then, curious as to what was being said in the article, she asked her current partner to send her, also by WhatsApp, photos of the interior pages with the piece. There, La Nacion and other outlets say, is where a picture of Nisman with a black dot on the forehead appeared, on a photo published on page 25.
Arroyo's partner said he got the copy of the magazine in his neighborhood newsstand -- the photo is now under police custody.
"I didn't give any real significance to it or look for any real explanation to the topic," Arroyo Salgado said of the photo, according to Argentinian newspaper Clarín.
She said that after Nisman's death she began to rethink the significance of the menacing photo. "I don't know if is related to the facts reported here or those under investigation by the prosecutors," she told Clarín.
Nisman's death on January 18 was originally ruled a suicide. But many have doubted it was a suicide because he died a day before he was supposed to provide details before Congress about his accusations against Argentine President Cristina Fernández and Foreign Minister Héctor Timerman's alleged deal with Iran to lift international arrest warrants for Iranian officials wanted in connection with the 1994 bombing of the Argentinian Jewish Mutual Aid Association (AMIA).
The late prosecutor's Nisman's 289-page report on the bombing left little room for argument over the collusion between officials in Buenos Aires and Tehran to reach an understanding by which the cash-strapped Latin American country might receive cheaper oil. The transcripts indicate a secret meeting in Aleppo, Syria, in January 2011 between Argentinian Foreign Minister Héctor Timerman and his Iranian counterpart at the time, Ali-Akbar Salehi, during which Timerman suggested that Argentina would no longer be interested in investigating the AMIA attack if Iran were willing to supply the country with inexpensive oil.
Investigators probing Nisman's death said Tuesday they found a draft document he wrote requesting the arrests of Fernández and Timerman .
Chief investigator Viviana Fein said the draft detention request was found in a trash bin of the apartment. It was not included in a complaint the prosecutor had filed in federal court days earlier.
Fein at first denied the existence of the document requesting the president's arrest after Clarín newspaper published an article about it on Sunday. Cabinet chief Jorge Capitanich ripped up the article in front of reporters on Monday and said it was a lie produced by the "opposition media," but Clarín then published a copy of the draft, which was dated from June 2014.
Observers point to the widening scandal surrounding Nisman's death as another instance of Fernández struggling to keep control of her government. Almost since taking office, Fernández has struggled with a failing economy, tensions with the media and anger from her fellow Argentinians.
"The Kirchner government must come clean on its role in Nisman's death," Jason Marczak, the deputy director of the Adrienne Arsht Latin America Center, told Fox News Latino. "With ten months left in power, Cristina is now deeply involved in a senseless killing that threatens the stability of a country already feeling the heat of deep economic pains."
Fernández is currently in China, where she, Chinese President Xi Jinping and the two countries signed 15 agreements covering travel visas, information technology, media, energy, space technology and financing.
While she sent out a flutter of tweets on her social media account about her visit, she refrained from mentioning anything about the draft of an arrest warrant found in Nisman's apartment. Both Fernández and Timerman have previously pointed to statements by Interpol's former director that Argentinian officials have not lobbied to have the Iranian arrest warrants lifted.
Senators Marco Rubio, Bob Menendez and Congresswoman Ileana Ros-Lehtinen have called for an independent probe into the prosecutor's death.
The Associated Press contributed to this report.