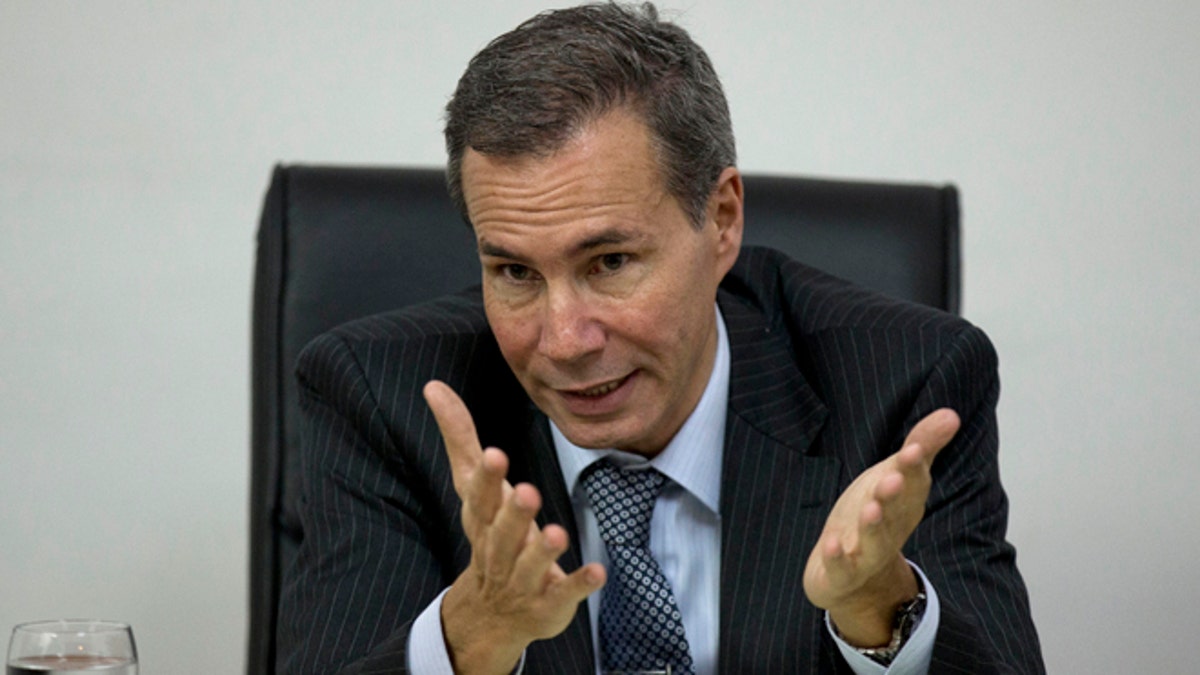 BUENOS AIRES, Argentina (AP) – The ex-wife of a prosecutor who accused Argentine President Cristina Fernández of protecting the masterminds of a 1994 bombing does not believe an initial finding that he killed himself on the eve of his testimony before congress.
While acknowledging that investigators need time to examine the facts, Judge Sandra Arroyo was clear in answering reporters who asked Tuesday whether her ex-husband's death was a suicide.
"No," she said.
The 51-year-old Nisman was found in the bathroom of his locked apartment early Monday, a bullet wound on the right side of his head and, next to his body, a .22 caliber handgun and a single bullet casing, authorities said.
Nisman had spent 10 years investigating the 1994 bombing of a Jewish community center in Buenos Aires, a still-unsolved attack that killed 85 people. His death came hours before he was to appear in congress to detail his accusation that Fernández, her foreign minister and other top officials had agreed to shield Iranian officials who allegedly masterminded the bombing.
Argentina's government dismissed the allegations as ludicrous.
Viviana Fein, the lead investigator into Nisman's death, said Monday it appeared to be a suicide and that no indications had surfaced to suggest anyone else was involved.
The gun found next to Nisman had been given to him by a colleague, she said. Sergio Berni, secretary of national security, said Tuesday that the gun was registered to a Diego Lagomarsino, who reportedly gave it to Nisman on Saturday.
An initial test for gunshot residue on Nisman's hand was negative, but Fein said that was not unusual given the small caliber of the weapon.
No suicide letter was found, according to an adviser to the ministry who spoke on condition of anonymity because he was not authorized to talk to the press. Colleagues said they'd seen no sign he planned to kill himself.
Nisman's family and friends rejected that he committed suicide in condolence notices published Tuesday in the La Nación newspaper.
"A profound sadness and pain for a death so unjust," said a notice from his uncles, aunts and cousins.
Nisman had said he'd been threatened repeatedly for his work and, at the time of his death, 10 federal police officers had been assigned to protect him. Investigators planned to question the officers, starting Tuesday with those posted outside his building the night of his death.
Arroyo, who met with investigators to learn about the progress of the probe, said answers would come in due time.
"There is an investigation underway. We must let justice proceed. I cannot make conjectures," she told reporters.
The 1994 bombing of the Argentine-Israeli Mutual Association is considered the worst terrorist attack in Argentina's history. In 2005, Nisman was appointed by then-President Néstor Kirchner, Fernández's husband, to revive the floundering investigation. He requested arrest orders be issued against several Iranian officials, including a former president and foreign minister, which an Argentine judge agreed to do in 2006. Interpol later put most of them on its most-wanted list.
But the case made little progress and, in 2013, Argentina and Iran agreed to jointly investigate the attack, a move critics said was meant to undermine Nisman's probe.
Nisman had asked a federal judge to call Fernández and others, including Foreign Minister Héctor Timerman, for questioning. The judge was considering Nisman's request.
On Tuesday, the Argentine Supreme Court disclosed the 289-page accusation that he presented to federal judge Dr. Ariel O. Lijo on Jan. 14.
In its powerful conclusion, Nisman said that Fernández "gave an express order to design and execute a plan disconnecting the accused Iranians from case of the AMIA attack." He added that not only did the president decide to carry out the "criminal plan of impunity" but was in control of it at all times.
Fernández has denied the accusations and on Tuesday linked his death to the legal process against former members of the 1989-1999 government of Carlos Menem for alleged irregularities in the initial investigation into the attack.
Her Cabinet chief, Jorge Capitanich, said "it is absolutely impossible to accept false accusations" but it is "necessary that the clarification of (Nisman's death) by the executive power be clear, convincing and undeniable."
Congresswoman Cornelia Schmidt-Liermann said she had planned to pick Nisman up at his residence Monday and accompany him to congress for his testimony.
"Everybody who had contact with him the last 24 hours says he was confident" about his testimony, she told The Associated Press. "There is no indication, under any circumstances, that he killed himself."