Ex Spanish prime minister in Venezuela to help jailed opposition leaders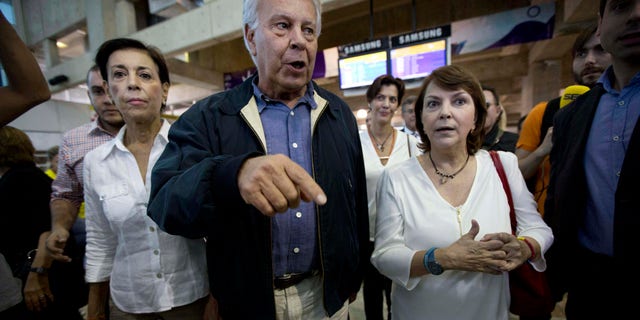 NEWYou can now listen to Fox News articles!
CARACAS, Venezuela (AP) – A former Spanish prime minister has arrived in Venezuela, where he intends to help lawyers defending imprisoned opposition leader Leopoldo Lopez and Caracas mayor Antonio Ledezma, who is under house arrest.
Felipe Gonzalez flew from Colombia to Venezuela Sunday and was greeted by members of the two men's families.
Gonzalez was criticized by Venezuelan President Nicolas Maduro after announcing he would advise Lopez and his supporters. Venezuela's Foreign Ministry has said that Gonzalez isn't welcome in the South American country. He initially announced plans to come in May, but canceled that trip.
The longtime head of Spain's Socialist Workers' Party led the country from 1982 to 1996.
Former presidents from Colombia and Bolivia also recently made trips to Venezuela to offer backing to the imprisoned politicians.
Lopez has been jailed for 15 months in connection with his leadership of Venezuela's spring 2014 protests. He declared a hunger strike on May 24 to demand the scheduling of legislative elections and the release of imprisoned opposition politicians like himself, who human rights groups consider political prisoners.
Lopez has not been seen in public since he stopped eating. His attorneys have said he has lost a good deal of weight, but haven't provided any more details about his condition.