Ex-refugees struggle with their Afghanistan homecoming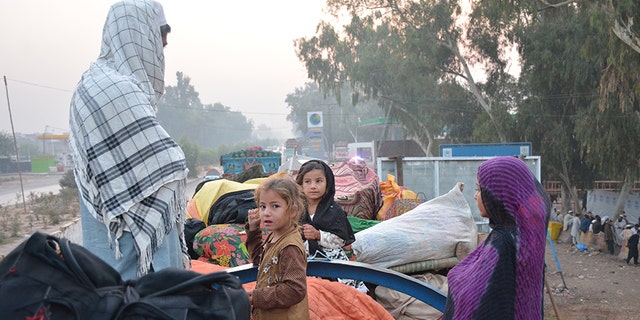 NANGARHAR, Afghanistan – On a cold and windy morning, Saed Mohammad was busy organizing his possessions on the ground in a village not far from the eastern Afghan city of Jalalabad.
He returned home to Afghanistan in November last year, after spending 20 years as a refugee in neighboring Pakistan. His is one of many families -- also former refugees -- who have returned home to the restive Nangarhar Province, where the rise of the Islamic State (ISIS) in recent years, its clashes with the Taliban and the targeting of both by U.S. airstrikes have destabilized the area.
Mohammad 35, who was 15 when he left Afghanistan, has had a difficult time adjusting to life back in his native country. Recalling his days in Pakistan's city of Peshawar, where he worked as a shopkeeper, he said: "I spent a really good time in Pakistan, even as a refugee. The situation is worse in Afghanistan, and it's a difficult for us to live here with security threats looming all the time.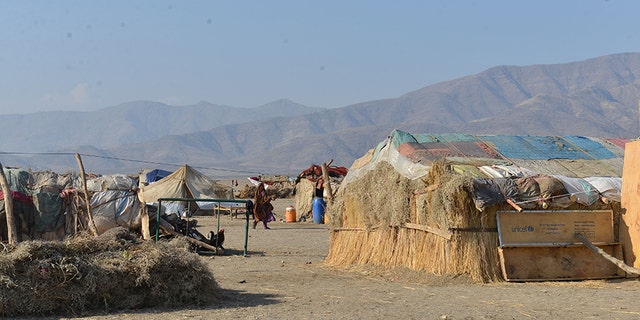 "While we were in Pakistan," he said, "my children were going to school and we were happy."
Mohammad said he and his family received scant assistance after returning to Afghanistan, despite promises by authorities to help. "Here," he said, "my children have not adequate food, shelter and clothes, no money to buy firewood, to save my family from the cold winter."
Pakistan remains home to at least 1.38 million registered Afghan refugees, according to the U.N. High Commissioner for Refugees (UNHCR). At least another million are estimated to be living outside the formal refugee registration system.
Refugees from Afghanistan have flooded into Pakistan through various periods of turmoil since the Soviet invasion in 1979, with many arriving after U.S. intervention in Afghanistan in 2001. The refugee issue has been a persistent one here, with no apparent end in sight.
But the question has gained new urgency recently, as President Donald Trump's has called on Pakistan to do more in the fight against terrorism.
Pakistan responded to those calls to get tougher with new regulations on refugee arrivals, telling some Afghans they had one month to return to their homeland. And last month, Abdul Qadir Baloch, Pakistan's minister of states and frontier regions, urged the United States to chalk out a framework for the successful repatriation of Afghan refugees.
Speaking to U.S. Deputy Assistant Secretary of State Nancy Izzo Jackson in Islamabad, Baloch said Pakistan has faced multiple and complex problems as a result of the Afghan refugee situation.
The problems are also complex for returnees from Pakistan like Mohammad. Among the great complexities of trying to rebuild their interrupted lives: finding shelter, and securing jobs in a difficult environment.
"The refugees returning from Pakistan are facing major challenges regarding resettlement and livelihood," said Javed Noorani, an independent researcher and board member of the Afghanistan Joint Monitoring and Evaluation Commission.
Pakistan's government recently extended the stay of Afghan refugees until March 31, a shorter-than-recommended timeline that revives fears Islamabad is preparing a forced return of hundreds of thousands to violence-plagued Afghanistan. Fraught relations between Islamabad and Kabul have prompted concern that Pakistan might indeed retaliate by pushing back Afghan refugees, particularly since official permission to stay was extended for just 30 days at the beginning of this year.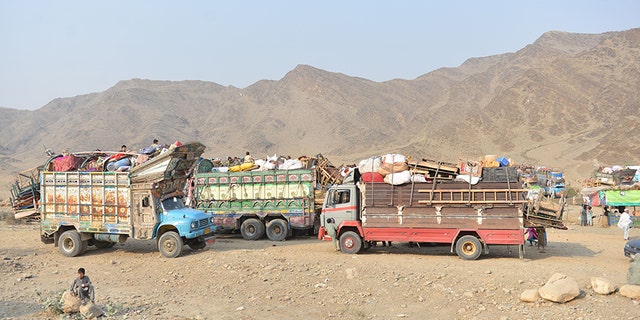 "Throughout 2016, Afghanistan accepted over 370,000 returnees, mostly from Pakistan and Iran," said Hafizullah Maikhil, spokesman for Afghanistan's Ministry of Refugees. "The Kabul government, along with the international community, aided refugees financially. But 2016 was a tough and challenging year for the Afghan government in terms of returnees, in massive numbers."
Qaisar Afridi, a UNHCR spokesperson in Pakistan, told Fox News: "UNHCR continued to advocate in resolving the long-term pragmatic solutions of Afghan refugees in Pakistan. We appreciate the people and government of Pakistan, which served the high volume of Afghan refugees for last four decades,"
Afridi continued: "On the call of the international community, UNHCR provides refugees targeted development assistance to support sustainable repatriation. We have been providing $200 to each registered refugee once they cross the Torkham border and enter into Afghanistan."
Liaqat Khan 32, who, like Mohammad, is from Nangarhar, left Afghanistan during the Soviet occupation, and grew up in Pakistan. "My district is under militants' control at moment," Khan said. "Due to the insecurity, I am unable to go there, and living here in [Jalalabad city] in a rented compartment with no income."
Refugee officials are concerned about the prospect of grappling with a large number of forced returns to Afghanistan. "An increase in the number of forced returnees from Pakistan will likely result in significant humanitarian impact in Nangarhar, Kandahar and Kabul Provinces, not only for returnees but also for existing internally displaced persons (IDPs) and host communities, straining existing response capacities," said a report by ACAPS, a nongovernmental group that provides information and analysis to the humanitarian community.
"Armed clashes between the Islamic Emirate of Afghanistan and the Islamic State of Khorasan over the past month have boiled over into brutal change of territorial control, from which thousands of Afghan families are desperately fleeing for their lives," said Will Carter, head of programme for the Norwegian Refugee Council (NRC).
And there's no quick fix in sight, experts on the situation say.
"There are 2.3 million refugees in Pakistan; this is a huge number and it is impossible for all of them to go back immediately," said Baryali Miankhel, president of an Afghan refugee welfare organization in Pakistan's northwestern province of Khyber-Pakhtunkhwa, home to many refugees. "We have told the Pakistani government this."
Miankhel said refugees are fleeing Pakistan "due to shorter deadlines from the government of Pakistan. That is the main reason."
The problem, he added, is that "security in Kabul is deteriorating, and still there is no peace in the war-torn country. People have no economic opportunities, or even a place to live and educate their children."
A total of 590 undocumented Afghans spontaneously returned or were deported from Pakistan through the Torkham (Nangarhar) and Spin Boldak (Kandahar) border crossings from Jan. 28 – Feb. 3, according to the Border Monitoring Team of the Directorate of Refugees and Repatriation for the International Organization for Migration (IOM) Mission in Afghanistan.
A U.N. humanitarian response study has recently found "Afghanistan continues to face immense humanitarian, social and political challenges. In 2017, ongoing conflict has displaced as many as 360,000 people from their homes and resulted in 8,019 civilian casualties -- two-thirds of these women and children.
"The intensification of the conflict, combined with a surge in sectarian violence, has led to extremely high numbers of war wounded on both sides of the conflict."
Abdul Ghani 65, lived in the northwestern Pakistan city of Jehangira for almost 39 years, and moved his family to his native Kunar Province in Afghanistan October. Now he finds himself and his family caught up in the struggled that go along with a homecoming.
"Look at the situation of house, a hut in a tent colony for refugees. We have no safe drinking water and our children have not enough clothes. I never expected to face this condition in my native country," Ghani told Fox News.