Ex prostitute elected to congress in Dominican Republic seeks more rights for women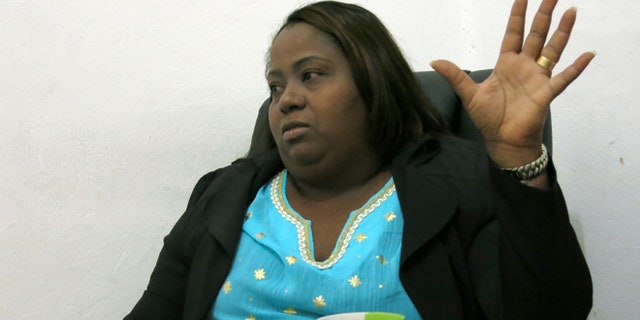 SANTO DOMINGO, Dominican Republic (AP) – When Jacqueline Montero takes her seat in Congress next month, she will bring not only an unusual past but an unconventional agenda for change in this socially conservative Caribbean country.
Montero was sexually abused as a child. She married at 16 to a man who beat her. And she worked as a prostitute for years to feed her children. Now, after a decade of activism for women's rights in the Dominican Republic, she hopes to put her life experience to work following her election to the Chamber of Deputies as part of an opposition coalition.
"I know the hardship that forces someone to go out on the street because your family doesn't have food," Montero told The Associated Press in the Santo Domingo office of the non-governmental organization she runs to promote the rights of sex workers.
The 46-year-old wants to focus on improving opportunities for women, a significant challenge in a country where about 35 percent of households are led by single mothers in poverty.
"When someone doesn't even have anything to eat, they end up going with the first man that appears," she said.
She plans to introduce legislation that would prohibit discrimination against specific groups considered vulnerable, including LGBT, sex workers, people with AIDS and the elderly. The walls of her office are adorned with diplomas and posters from international conferences dealing with sex work.
Montero will represent part of the port city of Haina in the 190-seat lower house of Congress, where the ruling party of President Danilo Medina retained its control in May's voting.
Activists say the significance of her election transcends her relatively minor legislative position because she will be a powerful voice for largely unrepresented people. "It's a victory for civil society," said Dario Garcia, executive director of a private organization that coordinates efforts against HIV and AIDS in the country.
Others see her elevation as a sign of social progress. "She represents an idea, the idea of non-discrimination, of equal participation of men and women," said Santo Rosario, a coordinator with a group, known by its Spanish acronym COIN, which advocates for the rights of marginalized groups, including sex workers.
Prostitution is not banned in the Dominican Republic although it isn't specifically legal either. By some estimates, there are 200,000 Dominicans selling sex in the country of 10 million or abroad. It is illegal to operate a brothel or sell the services of someone else, but enforcement is sporadic.
Montero, repeating her oft-told life story, grew up poor in a foster family where she was sexually abused by a male relative. She says she began working as a prostitute in Santo Domingo while still a teen after her abusive husband left her alone with a young child she could not support.
She hopes her biography, which is told in a collection of stories by Dominican sex workers, will help convince fellow members of Congress of the "terrible life" faced by many who work in prostitution.
"If I had not been raped when I was young and if the adults had believed me I would not have been a sex worker," she said.
She began to study nursing in 1998 after a client beat her severely when she didn't want to work without a condom and she got into a motorcycle crash that left her bedridden for eight months. She had worked as a prostitute for a decade before then.
Montero became politically active through her visits to a clinic that specialized in providing services to sex workers and or people with HIV. That experience continues to feed her belief that prostitutes should receive the same benefits as anyone else in the Dominican Republic.
"I want the workers to have social security, medical insurance and to be able to benefit from all government subsidy programs," she said.
Today, Montero still lives in a poor district of Haina. She has three of her own children and has adopted 12 children of prostitutes who she says might otherwise have been aborted. She is a deeply religious person who refers to God frequently in her speech and earned a degree in theology from Universidad Cristiana in 2014. She was raised as a Seventh Day Adventist, later became a Mormon and now identifies simply as Christian.
Her entry into politics started in 2010, when she became a member of Haina's city council. She had already become well known as an activist, sparring in the media with religious and political leaders.
Montero knows she will encounter opposition when she gets to Congress, where lawmakers have been divided over social issues such as LGBT and women's rights and abortion, reflecting the influence of the Roman Catholic church.
She says she's ready for it.
"When it comes to discrimination, I've been battled-tested and I'm going into this prepared," she said with a smile.
Like us on Facebook
Follow us on Twitter & Instagram