Evo Morales Expels USAID From Bolivia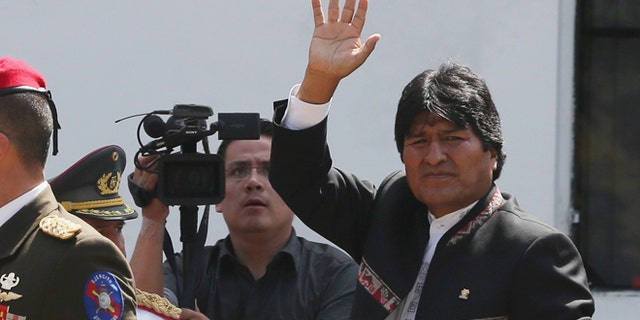 LA PAZ, Bolivia – Amid allegations that it was undermining his leftist government, and complaints about the U.S. Secretary of State calling the Western Hemisphere the "backyard" of Washington, Bolivian President Evo Morales said Wednesday he is expelling the U.S. Agency for International Development from the Andean nation.
Morales did not specify exactly what USAID had done that merited expulsion, but the ABI state news agency said it was "accused of alleged political interference in peasant unions and other social organizations."
In the past, Morales has accused the agency of funding groups that have opposed his policies, including a lowlands indigenous federation that organized protests against a Morales-backed highway through the TIPNIS rainforest preserve.
In 2008, Morales expelled the U.S. ambassador and agents of the U.S. Drug Enforcement Administration for allegedly inciting the opposition.
While Morales did not provide evidence Wednesday of alleged USAID meddling, funds channeled through it have been used in Bolivia and its leftist ally Venezuela to support organizations deemed by those governments to be a threat.
As U.S.-Bolivian relations soured and Washington canceled trade preferences, total U.S. foreign aid to the poor, landlocked South American nation have dropped from $100 million in 2008 to $28 million last year, with counter-narcotics and security aid on track to all but disappear in the coming fiscal year in one of the three cocaine-producing nations.
Analyst Kathryn Ledebur of the nonprofit Andean Information Network in Bolivia was not surprised by the expulsion itself but by the fact that Morales took so long to do it after repeated threats, which she believes diminishes its political impact.
"USAID alternative development efforts tied to forced coca eradication provoked his mistrust," she said of Morales, a longtime coca-growers union leader before his December 2005 election as Bolivia's first indigenous president.
She said Morales was also upset that USAID money reached lowland regional governments he accused of trying to overthrow him in 2008.
Since U.S. assistance has "dwindled to a trickle," the financial impact will be limited as well, Ledebur said.
Morales made Wednesday's announcement to a crowd outside the presidential palace during an International Workers' Day rally and said he was protesting a recent statement by U.S. Secretary of State John Kerry that Latin America is the backyard of the United States.
Kerry said in April 17 testimony to the U.S. House Foreign Affairs Committee that "the Western Hemisphere is our backyard. It's critical to us." He was discussing perceptions in the region that the United States doesn't pay enough attention to it.
Many Latin Americans, leftists in particular, are sensitive to any U.S. statements that could imply hegemonic designs, especially in light of Washington's 20th-century history of backing repressive regimes in the Americas.
"The United States does not lack institutions that continue to conspire and that's why I am using this gathering to announce that we have decided to expel USAID from Bolivia," Morales told the crowd, turning to his foreign minister, David Choquehuanca and ordering him to inform the U.S. Embassy.
Morales has been especially vocal lately in his rejection of Washington's support for a full recount of the results of April 14 elections in Venezuela.
The annointed heir to the late Hugo Chávez, Nicolás Maduro, won that election by fewer than 250,000 votes in balloting that opposition candidate Henrique Capriles was stolen from him.
Chavez and Morales were especially close allies.
The Associated Press could not immediately obtain comment from the U.S. Embassy. A spokesman did not answer his phone or respond to email.
Bolivia' Constitutional Court on Tuesday ruled that Morales can run for a third consecutive term, interpreting that 2009 constitution that set a two-term limit as not being retroactive. He won re-election by a landslide in 2009 and his approval rating was 55 percent in a January opinion poll, the latest available.
Based on reporting by The Associated Press.
Follow us on twitter.com/foxnewslatino
Like us at facebook.com/foxnewslatino