Events in Sri Lankan politics leading up to current crisis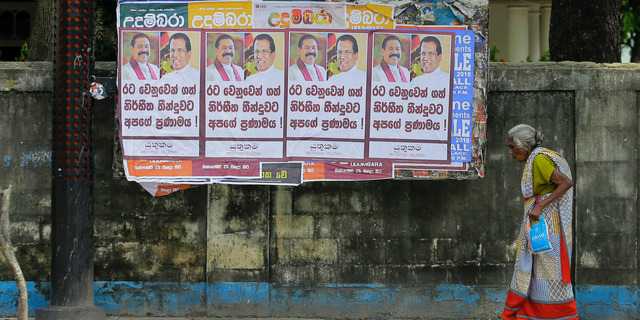 COLOMBO, Sri Lanka – Sri Lanka President Maithripala Sirisena dissolved his Cabinet, replacing Prime Minister Ranil Wickremesinghe with former strongman Mahinda Rajapaksa and plunging the South Asia island nation into a constitutional crisis.
Rajapaksa, whose government was accused of atrocities and corruption in the final years of Sri Lanka's civil war, maintains popularity among Sri Lanka's Sinhalese ethnic majority group, who credit him with ending the 25-year conflict with the ethnic minority Tamil rebels.
Here are some events in Sri Lanka's recent political history leading up to the current crisis:
___
2005
November: Then-Prime Minister Mahinda Rajapaksa wins presidential elections.
___
2009
May: Government troops defeat the Tamil Tiger rebels, ending a 25-year civil war.
October: Seizing on the military success, Rajapaksa's ruling coalition moves up presidential elections.
___
2010
January: Rajapaksa is re-elected president in landslide victory, defeating his ex-army chief Gen. Sarath Fonseka, who led the military campaign against the Tamil Tigers.
February: Fonseka is arrested on corruption charges.
April: Rajapaksa's ruling coalition wins landslide victory in parliamentary elections.
September: Parliament passes constitutional amendments to remove two-term limits and enable Rajapaksa to seek an unlimited number of terms.
___
2014
November: Sirisena, then the health minister, defects from Rajapaksa's government to run as the opposition candidate in a presidential election called two years ahead of schedule. Sirisena is stripped of his duties.
December: Sirisena signs a memorandum-of-understanding with dozens of political parties and civil rights groups to abolish the executive presidency, hold parliamentary elections, form an all-party national government and carry out various democratic reforms.
___
2015
January: Sirisena secures a surprise victory in the presidential elections, defeating Rajapaksa's bid for a third term.
April: Parliament passes constitutional amendment restoring a two-term limit for the presidency and creating independent commissions for police, judiciary and public service.
August: Neither major party gets a clear majority in parliamentary elections. Sirisena's party signs an agreement with Ranil Wickremesinghe's party to form a unity government.
___
2016
November: Loyalists to Rajapaksa form a party with Rajapaksa considered its proxy leader.
___
2017
February: Government implements Right to Information Act to curb corruption.
October: Sri Lanka's foreign minister resigns amid accusations of possessing a luxury apartment paid for by a businessman investigated for shady Treasury bond transactions.
___
2018
January: Sri Lankan lawmakers exchange blows in Parliament during a debate over alleged corruption over a bond issue that had marred the reputation of the coalition government elected on an anti-corruption platform.
February: Rajapaksa's party sweeps local elections in a major blow to Sirisena's 3-year-old government.
April: Wickremesinghe comfortably overcomes a no-confidence vote, strengthening his hand within the unity government.
October: Sirisena sacks Wickremesinghe, dissolves his Cabinet and suspends Parliament, and invites Rajapaksa to form a government as the new premier.