European populists seek "Trump boost" for anti-Islam stances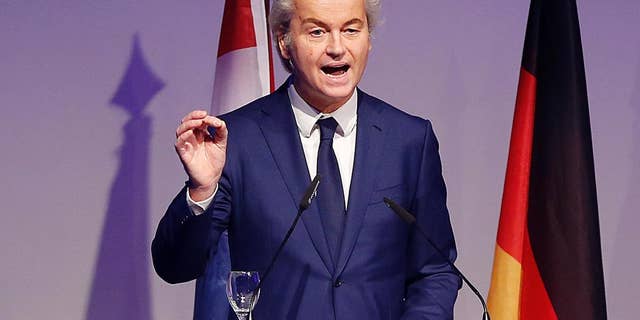 PARIS – In Donald Trump, Europe's populist leaders think they have found a champion.
For now.
The opening salvoes of Trump's presidency, most notably his ban on immigration from seven Muslim-majority nations, are being gleefully milked by anti-Muslim lawmaker Geert Wilders in the Netherlands and other populist leaders in Germany, Italy and elsewhere who want to roll back the European Union and stem the influx of migrants and refugees.
Ignoring the anti-Trump protests, the wide criticism and legal challenges that have erupted over the new U.S. president's ban, populists in Europe argue that Trump is proving that immigration can be stemmed, even stopped. They see a quick and decisive leader — and their latest weapon with which to attack the European governments and institutions they accuse of being soft on immigration.
For Alexander Gauland, deputy leader of the anti-immigrant Alternative for Germany party, Trump is "a path-finder, by proving that with political will you can change polices."
"It makes it easier for people who want to stop Islamic immigration that Trump says: 'You can do it,'" Gauland said. "If this policy works, and if Mr. Trump works with these goals, then it could be helpful in the next general election in Germany or the French presidential elections."
Czech President Milos Zeman's spokesman, Jiri Ovcacek, calls Trump "a trailblazer."
"The EU has been discussing the necessity of protecting its external borders for months. However nothing has happened so far. Europe should perceive the steps taken by President Trump as an inspiration," he said.
With national elections this year in the Netherlands, France and Germany, the rising tide of populism is being watched with growing alarm at EU headquarters in Brussels, which is still reeling from last year's Brexit vote to take Britain out of the 28-nation bloc. Donald Tusk, the EU president, flagged up the threat of populism in a sobering letter this week to EU governments before they meet Friday to discuss their collective future without the British.
But political analysts aren't convinced that populists' enthusiastic welcome of Trump's ban — "Well done @POTUS it's the only way to stay safe + free," Wilders tweeted — will help them as much as they think.
While the ban has pushed immigration back to the top of the global agenda, analysts say that's no guarantee of more votes for populists at the ballot box. In fact, they say, associating too closely with Trump could backfire on populists if his promised "America first" trade protectionism policies end up hurting European workers — which populists are wooing, as the new U.S. president did in the United States, to gain power.
"In a few weeks, months or years, there could be big differences between leaders of populist parties and Trump," said Marco Tarchi, a political scientist at the University of Florence in Italy. "Long-term, things could get really complicated."
In the Netherlands, Wilders was already polling strongly before he started furiously tweeting and praising Trump's immigration ban.
Koen Vossen, a political scientist at Radboud University in Nijmegen, says Wilders' core supporters were already convinced, long before Trump took power, by the populist leader's arguments that Islam poses a grave threat to the Netherlands. But the broad criticisms and problems caused by Trump's ban could also scare wavering Dutch voters away from Wilders' Party for Freedom, he said.
"He's preaching to the converted and also to a few percent — maybe 10 percent — who are still doubting whether they will vote for Wilders," said Vossen, author of a book on Wilders. "Maybe he will win a few percent extra because of Trump, but he could also lose a few percent."
In France, National Front leader Marine Le Pen also believes that Brexit and Trump are favorable winds filling the sails of her far-right, anti-immigration party, which is polling strongly ahead of the presidential first-round vote in April.
"The whole world — it's true of Brexit and it's true for Mr. Trump — is waking up to what we've been saying for years," Le Pen said.
But, again, strengthening support in France for Le Pen's nationalist platform predates Trump's election victory. And workers mulling a shift to Le Pen in France's rustbelt industrial towns want to protest job losses and ineffective traditional French politics, without necessarily fully espousing the National Front's anti-Islam and anti-immigration views.
Nonna Mayer, a leading expert on the party at Sciences Po in Paris, said Trump is only "an added bonus" and "a sales argument" for Le Pen, rather than an electoral game-changer.
"If Trump trips up, it will come back at them," she said. "They know that if it backfires, it will be a problem for them."