European Council President Donald Tusk says there's a 'special place in hell' for Brexiteers
Donald Tusk has blasted pro-Brexit campaigners, saying there was a "special place in hell" reserved for them for leaving the bloc "without a plan".
The President of the European Council Wednesday insisted that the European Union wouldn't compromise on safety in Northern Ireland.
The top Eurocrat caused uproar with his explosive comments, just as leaders are looking for a compromise deal to ensure that Brexit happens on time and as planned.
CLICK HERE FOR MORE FROM THE SUN
MPs reacted with fury and accused him of deliberately pushing Britain towards No Deal.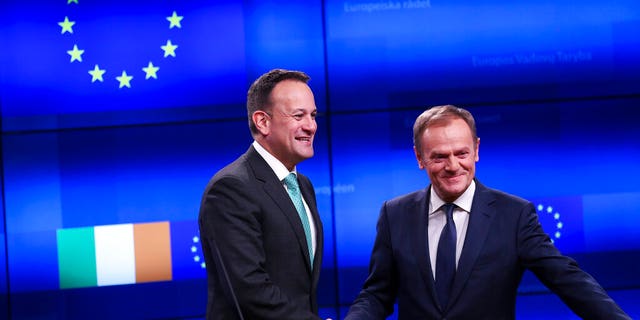 Tusk told journalists at a press conference: "I've been wondering what that special place in hell looks like for those who promoted Brexit without even a sketch of a plan of how to carry it out safely."
QUEEN ELIZABETH, ROYAL FAMILY TO BE EVACUATED IF BREXIT UNREST BREAKS OUT IN LONDON, REPORTS SAY
There are just 50 days to go until Britain leaves the E.U. and "our most important task is to prevent a No Deal scenario", he stressed.
But he said they would make "no new offer" to the U.K. to help get Prime Minister Theresa May's deal through the House of Commons, despite MPs clearly rejecting it last month over the Northern Irish border plan.
UK PARLIAMENT SHOOTS DOWN TO DELAY BREXIT, SAYS IT COULD BACK MAY'S DEAL WITH CHANGES
The "top priority" for the bloc was to "maintain the peace process in accordance with the Good Friday Agreement", Tusk said.
"We will not gamble with peace or put a sell-by date on the resolution. This is why we insist on the backstop," he added.
CLICK HERE FOR THE FOX NEWS APP
This article originally appeared in The Sun. For more from The Sun, click here.