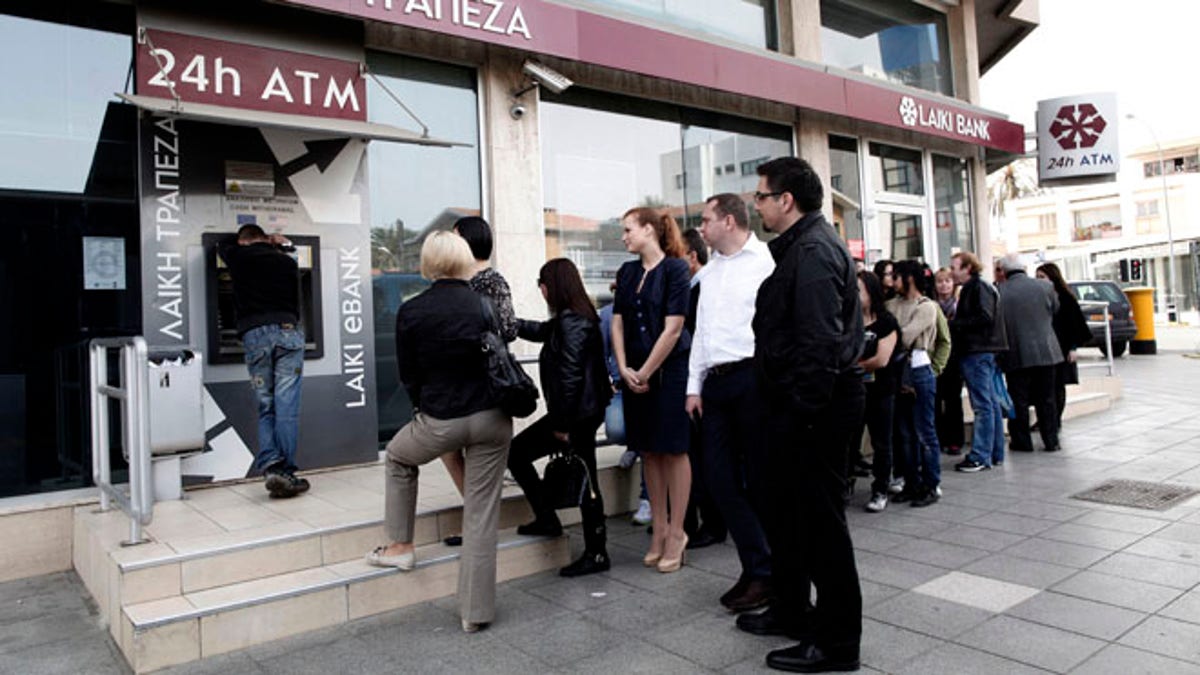 NICOSIA, Cyprus – Cypriot politicians moved Thursday to restructure the country's most troubled bank as part of a broader bailout plan that must be in place by Monday to avoid financial ruin. Concerned customers rushed to get cash from ATMs as bank employees protested.
Cyprus has been told it must raise 5.8 billion euros ($7.5 billion) if it is to receive 10 billion euros ($12.9 billion) from its fellow eurozone countries and the International Monetary Fund. If it does not find a way by Monday, the European Central Bank said it will cut off emergency support to the banks, letting them collapse.
That would throw the country into financial chaos and, ultimately, cause it to leave the eurozone, with unpredictable consequences for the region.
Party leaders and the government were hashing out three new laws on Thursday night, ranging from restricting bank transactions to restructuring the most troubled bank, Cyprus Popular Bank, or Laiki.
The pressure has increased since lawmakers on Tuesday rejected an earlier proposal to seize up to 10 percent of people's bank accounts. Banks have been shut since last weekend to avoid a run and will not open until Tuesday at the earliest.
Uncertainty was growing among Cypriots as the deadline approached and reports spread that the country's second-largest bank would be restructured.
Queues of 40 to 50 people formed at the ATMs of Laiki, which responded by capping daily withdrawals at 260 euros ($340) per person from 700 euros ($906). Although ATMs have been functioning, many often run out of cash.
"We need cash. We have families, children, grandchildren and expenses, and the banks have been closed since Saturday," said Andri Olympiou after withdrawing money from a Laiki branch in Nicosia, the capital.
The central bank governor, Panicos Demetriades, urged lawmakers to vote immediately on a legal framework bill to rehabilitate Cyprus's banking sector.
The bills include restructuring Laiki, a move that would raise an estimated 2 billion euros out of the total 5.8 billion euros Cyprus needs, according to local media.
Once it is done, the country would be in a position to guarantee all deposits up to 100,000 euros ($130,000) -- the EU-wide limit for bank guarantees.
Officials said the restructuring would split Laiki into two, with a "bad bank" taking over its soured investments, and a "good bank" retaining the healthy ones.
Setting up a bad bank is a strategy that's been sued before in Europe's financial crisis, by Ireland and Spain. A bad bank is tasked with recovering as much money as possible from the investments.
Without the restructure, Laiki would collapse and drag down the rest of the banking system and the economy, Demetriades said.
"The restructuring constitutes a significant step toward the achievement of an economic support agreement for the Cyprus Republic from the European support mechanism and the International Monetary Fund," Demetriades said.
Eurozone finance ministers held a phone conference and reaffirmed their commitment to discuss Cyprus' plans when are ready.
Laiki bank employees protested outside Parliament, chanting "Cypriots wake up! We're not selling Cyprus!" Scuffles broke out with riot police and the main road was blocked to traffic.
Besides the restructuring, the "Plan B" will also likely include some form of Russian help, dipping into pension funds and taking up an offer from Cyprus' wealthy Orthodox church to contribute. Some form of tax on bank deposits is also possible.
The government will also create a so-called "Investment Solidarity Fund," which is intended to appeal to "the patriotism of Cypriots" and draw on contributions from ordinary Cypriots, businessmen and foreign investors.
A "Plan B" is needed after lawmakers soundly defeated the earlier proposal to seize up to 10 percent of all domestic deposits to raise the 5.8 billion euros.
"We will have a program of support for Cyprus by Monday," Demetriades said earlier in the day.
Bank of Cyprus, another major lender, appealed to the government and politicians to reach a plan that the eurozone partners would accept, clearing the way for the bailout.
"The Cypriot economy is in a marginal and fragile state. The next move could prove salutary or disastrous," the bank said in a statement. "It is imperative we immediately proceed with the drawing up of an agreement with the Eurogroup."
Russia is likely to pitch in with the new plan. Nearly a third of the 68 billion euros ($88 billion) in deposits in Cyprus' oversized banking sector are held by Russians.
Cyprus' finance minister, Michalis Sarris, has been in Moscow since Tuesday seeking to forge a deal. Russia's help would not be a loan, but rather some form of an investment, he said.
Russia news agency ITAR-Tass quoted Sarris as saying "we are discussing the subjects of gas, bank cooperation and other subjects." Cyprus has recently discovered significant off-shore gas deposits, and major energy companies have shown an interest in tapping those resources.
In Brussels, the head of the 17-nation eurozone's finance ministers Jeroen Dijsselbloem, said that a one-time tax on bank deposits was "inevitable" given Cyprus' oversize financial sector. He argued, however, that the burden should be shifted toward taxing big bank deposits of more than 100,000 euros.