Europe weighs aid, arms to Egypt at emergency talks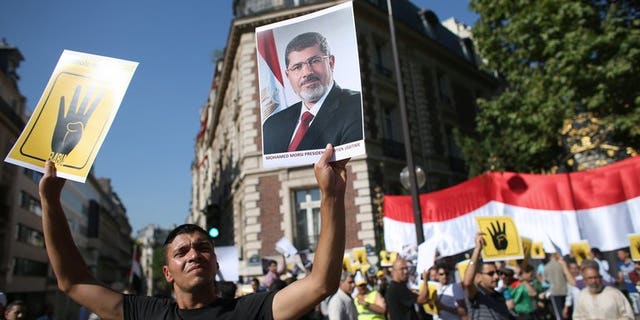 BRUSSELS (AFP) – Europe stood poised to firmly condemn the blistering violence in Egypt but stop short of sanctions as EU foreign ministers gathered Wednesday for crisis talks determined to keep channels open with Cairo.
"We must very strongly condemn the violence. It is very important that Europe speaks up," Swedish Foreign Minister Carl Bildt said as he arrived for the 1100 GMT talks, hastily arranged in the midst of Europe's summer break after the deaths of more than 900 people in a week of unrelenting violence.
Ministers will examine a range of options set out by EU foreign policy chief Catherine Ashton, who remains in close touch with players across the spectrum and who last month was the first foreign official to meet ousted Islamist president Mohamed Morsi in his secret detention centre.
Ashton told journalists on the eve of the talks that she was ready to return to help facilitate a political solution to the crisis. "I would be more than willing to go back to Egypt if they wish me to come back," she said.
Among the options mulled by the ministers will be withholding part of the EU's massive aid package or suspending arms deals as well as military and security cooperation pending a political solution in the Arab world's most populous nation.
Italy's Emma Bonino called for a halt to arms exports but said she was opposed to aid or trade sanctions.
Hours before the EU talks, however, Saudi Arabia urged global powers "not to take measures that could hamper the efforts of Egypt's government to stabilise" the country.
Saudi Arabia earlier this week had thumbed its nose at the threat of sanctions against Egypt, pledging that Arab and Islamic countries would step in if Western nations pulled their aid.
And as Washington too reviewed its assistance, Egypt's interim prime minister Hazem al-Beblawi said the country could live without US aid.
Some EU countries, notably Germany and Italy, have already suspended arms exports. Denmark has cut off funding for development projects run directly with the government or with public institutions.
Dutch Foreign Minister Frans Timmermans urged the powerful EU bloc to stick to its principle of "more aid for more democracy", or as he put it "in this case less-for-less".
But the "lines of communication with both the authorities and the opposition must be kept open so that the EU can exert sufficient influence and have enough leverage," he said in a note to parliament.
Senior EU diplomats in private warn against cutting aid that currently for the most part is channelled to grassroots groups working to reduce poverty or improve rights.
"We will respond to the current situation," said the EU special envoy to Egypt, Bernardino Leon, who has spent weeks in the country trying to mediate a political deal. "But at the same time we will remain a constructive actor trying to promote a political solution."
Aid at stake amounts to nearly five billion euros ($6.7 billion) in loans and grants promised by the world's top aid donor to Egypt for 2012-13. It includes 800 million euros from the EU with the rest from European banks EIB and EBRD.
But because EU aid was made contingent on political and judicial reforms after the 2011 uprising that overthrew Hosni Mubarak, only a paltry 16 million euros have been paid out this year.
Military assistance however amounts only to 140 million euros a year, well below US defence aid.
"Should we decide to suspend this or that project we risk penalising Egyptian people above all. We could also review defence or security agreements but even that is complicated," said a French diplomat speaking on condition of anonymity.
"We can't act as if nothing has happened, but at the same time we need to be careful not to be counter-productive."
EU foreign ministers have not met since July 22, when they urged Egypt's army to stand aside and allow a peaceful transition to civilian rule following the military overthrow of Morsi.