EU imposes new sanctions on Syrian regime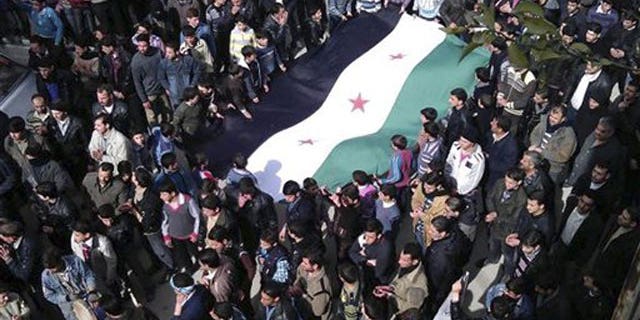 NEWYou can now listen to Fox News articles!
BRUSSELS – European Union foreign ministers said Monday they were increasingly appalled by the Syrian government's ruthless campaign of repression against civilians, and imposed new sanctions in hopes of pressuring the regime to change course.
The officials from the 27 EU countries, meeting in Brussels, froze the assets of seven Syrian government officials and the country's central bank. They also banned the purchase of gold, precious metals and diamonds from the country, and banned Syrian cargo flights from the European Union.
"The EU underlines that those responsible for the violence across Syria will be held accountable for their actions," the foreign ministers said in a statement, adding that, "The EU supports the Syrian opposition in its struggle for freedom, dignity and democracy."
The EU had previously imposed eleven rounds of sanctions on Syria, freezing the assets of more 100 people and 38 organizations, and trying to cut the country's supply of equipment for its oil and gas sectors.
But so far the EU sanctions have had little effect on the regime of Syrian President Bashar Assad. Activist groups estimate nearly 7,500 people have died in 11 months of unrest.
As he left the meeting, French Foreign Minister Alain Juppe said he thought the imposition of new sanctions would be effective as part of a broader effort to put pressure on the Assad regime.
"It will not be enough, of course, but it is a new step," he said. The names of the Syrian officials sanctioned Monday will be made public Tuesday in the EU's official journal.
Juppe said, too, that humanitarian access to those in need in Syria was "an absolute priority."
The foreign ministers also recognized the Syrian National Council, one of two main opposition groups, as one legitimate party to talk with, their statement said. But, acknowledging that there were other elements opposed to Assad's rule, they urged the opposition to agree on a shared set of principles.
British Foreign Secretary William Hague said he was impressed with the Council's commitment to democracy and the protection of minorities. But, he added, "We can't vouch for every single group that may make up opposition elements in Syria."
Also Monday, a number of Western nations, including Britain and Switzerland called for Syrian authorities to halt the crackdown.
The call by Britain, Switzerland and others came a day before the U.N. Human Rights Council was scheduled to hold an urgent meeting on Syria, and amid efforts by Russia to block the Geneva-based body from passing a resolution that would condemn the government for abuses carried out by its security forces.
Russia has previously voted with China to stop resolutions in the U.N. Security Council from backing Arab League plans aimed at ending the conflict and condemning Assad's crackdown.
Any decision taken by the Human Rights Council would carry little legal weight, but Western and Arab diplomats hope it would send a signal that the U.N.'s top human rights body wants the violent repression to end.
On Monday, Russian Prime Minister Vladimir Putin warned against military intervention in Syria and its foreign minister criticized an international conference in Tunisia last week focusing on the country, saying it had failed to help end the bloodshed.
Sergey Lavrov expressed regret that the "Friends of Syria" conference didn't "help create conditions that would encourage all Syrians to engage in political dialogue."
Russia criticized the conference's organizers for failing to invite representatives of the Syrian government and accused them of encouraging the Syrian opposition to reject talks.
"It's not realistic to demand that the government ends its action against militants and keep the militants free of any obligations whatsoever," Lavrov said.
Meanwhile, he hailed the Syrian regime's referendum on a new constitution Sunday as a "movement toward democracy" even as the U.S. and its allies dismissed it as a "farce."