Elephant numbers plunge in Mozambique because of poachers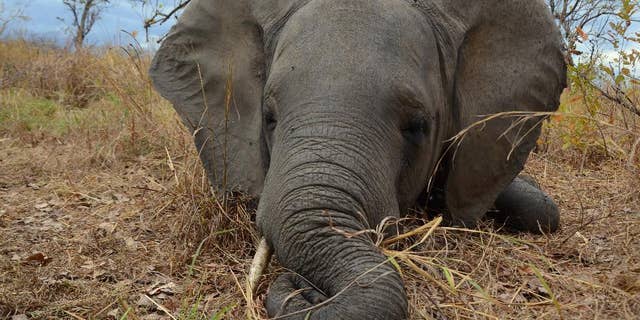 JOHANNESBURG – Poachers slaughtering elephants in Mozambique cut their population almost in half from 2009 to last year, but in Uganda, elephant numbers are increasing as a result of anti-poaching measures, according to aerial surveys.
Poachers have slaughtered tens of thousands of African elephants in recent years to meet demand for ivory, particularly in China. Conservationists and governments have collaborated on an aerial, continent-wide census of elephants to better marshal efforts to protect wildlife. Microsoft co-founder Paul Allen is a project funder.
The New York City-based Wildlife Conservation Society participated in the counts in Mozambique in southern Africa, and Uganda in the east. It said this week that Mozambique's elephant population dropped from just over 20,000 to about 10,300 during the five-year period, reflecting rampant poaching by organized crime rings. The lower number was recorded during surveillance flights between September and November.
Celso Correia, Mozambique's environment minister, pledged action against poachers, who sometimes work with corrupt state officials. Under an initiative between the Mozambican ministry and police, a new force has been set up to patrol conservation areas.
On May 12, Mozambican police seized 340 elephant tusks and 65 rhino horns from a house in the city of Matola, according to the Mozambique News Agency. Two Chinese citizens were arrested, police said. On Wednesday, police spokesman Emidio Mabunda said six officers were arrested on suspicion of stealing a dozen horns from the huge haul, which was supposed to be under police guard.
South African police said they planned to work with Mozambique to test DNA samples of the seized horns to see if they belong to rhinos killed in South Africa. Kruger National Park, a big South African reserve, is often targeted by poachers crossing the border from Mozambique.
In Uganda, elephant numbers have increased to more than 5,000 from fewer than 1,000 decades ago because of improved measures to protect elephants, the Wildlife Conservation Society said. It said the Uganda Wildlife Authority, a state agency that was established in 1996, was key to the success.
Some elephants have migrated to Uganda from Virunga National Park in nearby Congo, where poaching has been severe, the conservation group said.