El Chapo's wife angry that conjugal visits with drug lord were cut from 4 to 2 hours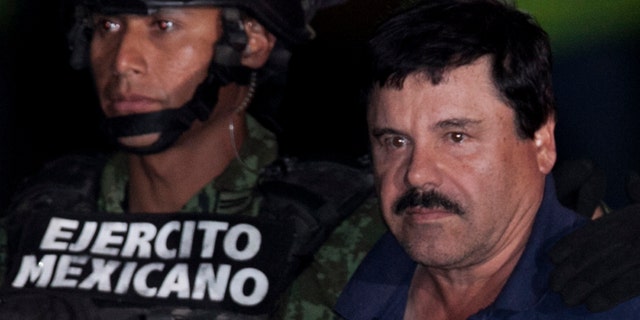 NEWYou can now listen to Fox News articles!
Mexican drug lord Joaquín "El Chapo" Guzmán says his life isn't easy.
He complains that he's constantly monitored by three guards, his communication with the outside world is severely restricted and his health and sanity are deteriorating.
But now, the Mexica drug lord's wife, Emma Coronel, said authorities have gone too far – they cut the drug lord's conjugal visits with from four hours down to two.
In a lawsuit, Coronel's aired her grievance about the lack of lovemaking time to Mexico's National Human Rights Commission. She also complained that he is being denied visits by lawyers and family members, being subjected to torture and that he is on the brink of losing his mind.
Coronel, the mother of twin daughters with Guzmán, told media Monday outside the commission's Mexico City office that she had just filed the complaint charging that Guzmán suffers from declining health.
Coronel has filed complaints before to pressure the government to improve conditions for the Sinaloa cartel's leader.
The commissioner of Mexico's National Security Commission, however, refuted Coronel's claims. He said Guzmán has to be watched closely because he twice has broken out of prison.
Guzmán has a penchant for escaping from incarceration. In 2001, he reportedly hid in a laundry basket to escape from the Puente Grande maximum security prison and in July 2015, after less than two years at the Altiplano prison in Central Mexico, he fled again, this time through a mile-long tunnel. He was eventually recaptured earlier this year and, after being taken back to the Altiplano prison, he was transferred to a prison in Ciudad Juarez.
Commissioner Renato Sales Heredia said that Guzmán is given time to exercise in the prison yard and added that his wife has visited him 35 times, his lawyers 33 and that he's also had numerous visits from his daughters, sisters and other family members.
"His health condition is OK – acceptable for any 60-year-old man," Renato said, according to Excelsior. "We are open to his family members going to Human Rights and have [Human Rights] set up an office in detention centers in coming years so they can monitor the rights of every single inmate."
The Associated Press contributed to this report.