Eight Iraqis convicted in New Year's gang rape in Austria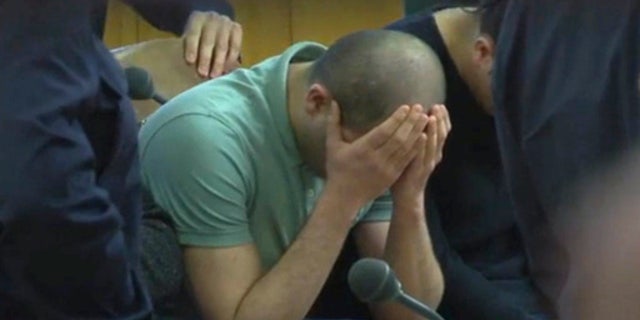 Eight Iraqi nationals are set to spend up to 13 years in prison after a court in Austria Thursday convicted them of gang-raping a German tourist in the early hours of New Year's Day more than a year ago.
ISIS FIGHTERS TRY HIDING AMONG MOSUL FAMILIES AS REFUGEE RATES SURGE
The Iraqis, aged between 22 and 48, arrived in Austria as migrants between May and December 2015. Five received refugee status.
The court awarded the victim -- a 28-year old woman -- more than $26,000 in damages, and dismissed charges against a ninth suspect. Both sides appealed the ruling, according to a court statement.
THREE SKIERS KILLED IN ITALIAN ALPS AVALANCHE, RESCUERS SAY
Four Iraqi men knew the tourist had been drinking heavily on and could not defend herself before they took her to a Vienna apartment, where the entire group took turns raping her on Jan. 1, 2016, prosecutors said. They added that when the woman regained control, she found herself naked in a bed.
She was celebrating the holiday with a friend in Vienna beforehand, the BBC reported.
All but one of the defendants denied raping the woman while some acknowledged having what they described as voluntary sex with her. But prosecutor Karina Fehringer suggested that was impossible, describing the victim as being in defenseless in an "unconscious, shock-rigid" state.
The sentences ranged from nine to 13 years, although the maximum sentence for rape is 15 years in Austria. Judge Petra Poschalko said only two of the defendants had helped the court establish the facts and only one had confessed.
Germany saw a slew of sexual assaults that same New Year's Eve -- from as many as 2,000 attackers, according to a leaked police document.
Defense lawyer Andreas Reichenbach observed that the Austria crime was committed at around the same time as the assaults in Cologne, Germany, by groups of refugees. He suggested the tough sentences might be an "additional message" that such actions would not be tolerated.
Fehringer dismissed defense claims the woman may have sent "false signals" that could have encouraged the men. The lawyer asked, "Should we stick warnings on bottles: 'excess consumption could be interpreted as agreement to have sex?"' according to the reporting of the Austria Press Agency.
Fehringer also said the victim continued to suffer post-traumatic effects from the assault, and needed psychiatric treatment.
The 48-year-old man whose charges were dismissed said he had been asleep during the assaults.
The Associated Press contributed to this report.