Egypt's president visits staunch ally United Arab Emirates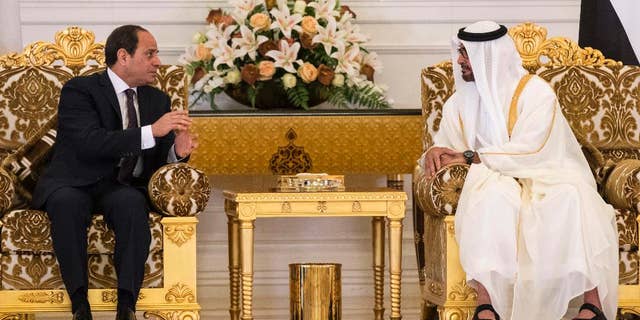 DUBAI, United Arab Emirates – Egypt's President Abdel-Fattah el-Sissi is visiting the United Arab Emirates, a staunch ally that has provided billions of dollars in aid to his country's ailing economy and unwavering support for Cairo's fierce crackdown on the Muslim Brotherhood.
In a show of solidarity, el-Sissi was greeted upon arrival on Wednesday to Abu Dhabi with a 21-gun salute.
The UAE's state-run WAM news agency says Abu Dhabi Crown Prince Sheikh Mohamed bin Zayed Al Nahyan and el-Sissi discussed the war in Yemen, where a Saudi-led coalition that includes Emirati and Egyptian troops is fighting Iranian-allied Shiite rebels.
They also discussed Libya's political turmoil. El-Sissi's visit overlaps with UAE-brokered direct talks underway in Abu Dhabi between two rival Libyan leaders. The talks are an apparent attempt to further sideline Libya's Islamist politicians.