'Egypt's Jon Stewart' turns himself in after arrest warrant issued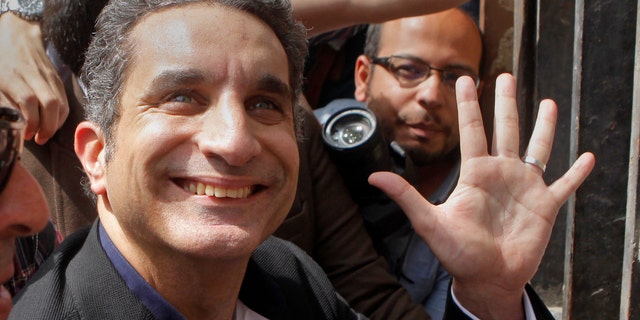 CAIRO – A popular television satirist known as Egypt's Jon Stewart was questioned by Egyptian prosecutors Sunday over allegations he insulted President Mohamed Morsi.
The case is regarded by Morsi's critics as the most recent proof of a crackdown on dissent.
Bassem Youssef, the host of the weekly show "ElBernameg" or "The Program," turned himself in after an arrest warrant was issued for him on Saturday, Reuters reported.
Government opponents said the warrant against such a high profile figure, known for lampooning President Mohammed Morsi and the new Islamist political class, was an escalation in a campaign to intimidate critics. It followed warrants for five prominent anti-government activists accused of instigating violence.
Youssef tweeted a series of quips from the prosecutor's office. "They asked me the color of my eyes. Really," one read.
Youssef's popularity grew, according to a Reuters report, with an online satire show after the uprising that swept through Egypt and led to the downfall of former President Hosni Mubarak in 2011. Youssef's program, which has been compared to Jon Stewart's "Daily Show," is now broadcast on television.
The comedian is accused of mocking Morsi and insulting Islam. The prosecutor filed the warrant after at least four complaints filed by supporters of Morsi, a Muslim Brotherhood politician.
The arrest warrant for Youssef comes as opposition figures have expressed concerns about freedom of expression and assembly for what they call a crackdown on dissent at a time of deep polarization in Egypt's politics.
On Monday, Egypt's top state prosecutor, Talaat Abdullah, issued arrest warrants for five of Egypt's most prominent democracy advocates and activists over allegations that they instigated violence last week near the Brotherhood's headquarters in Cairo.
It was one of the worst bouts of violence in months, where nearly 200 people were injured in clashes between anti-government protesters and supporters of the Brotherhood, from which Morsi hails.
Morsi harshly criticized his opponents, calling them hired thugs out to derail Egypt's democracy. The Brotherhood also blamed privately-owned media for fanning the violence.
The criticism was followed by a two-day protest by dozens of Islamists outside the studios of TV networks critical of Morsi. The Islamist protesters pelted police and prevented some talk show hosts and guests from going in and out of the complex west of Cairo.
The Associated Press contributed to this report.