Egypt's Islamist leader seeks to distance himself from proceedings against TV satirist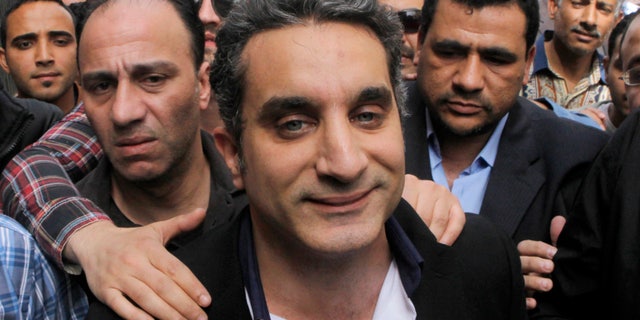 NEWYou can now listen to Fox News articles!
CAIRO – The Egyptian president's office is distancing itself from legal proceedings against a popular comedian questioned over accusations he insulted the president and Islam in his weekly TV show.
A late Tuesday statement said President Mohammed Morsi's administration recognizes the "importance of freedom of expression and fully respects press freedom."
The complaints against satirist Bassem Youssef, the statement pointed out, were filed by "citizens."
Youssef's questioning, as well as arrest warrants against five anti-government activists on charges of inciting unrest, have prompted Morsi's opponents to warn of a campaign to intimidate his critics.
The Obama administration has warned that Egypt may be backsliding in its transition to democracy, with Secretary of State John Kerry saying Tuesday that Washington has "real concerns about the direction Egypt appears to be moving in."