Egyptian sumo wrestler ready to fight in Ramadan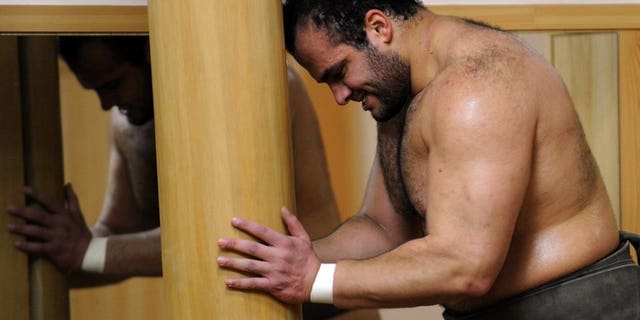 TOKYO, Japan (AFP) – The Arab world's first professional sumo wrestler says fasting for Ramadan will give him courage during his inaugural tournament in the famously weighty elite ranks of the sport.
Egyptian Osunaarashi (Great Sandstorm) believes observing the Muslim holy month, which begins Tuesday, will boost his performance, despite not being able to eat during the day.
"I will have a greater fighting spirit during Ramadan," said the wrestler, whose real name is Abdelrahman Ahmed Shaalan.
Devout Muslims are forbidden from eating or drinking during daylight in Ramadan, which this year overlaps with the 15-day tournament that began in Nagoya on Sunday.
The 21-year-old is fighting his first tournament in the "sekitori" ranks -- the top 70-strong tranche of the sport -- just over a year after his professional debut.
Osunaarashi, who is also the first African wrestler, lost just six of his first 49 bouts.
But his elevation to the second division means he will now fight 15 bouts per tournament, rather than seven, all of which will be in the afternoon, well into each day's fast.
"I believe it is tough for him mentally and physically," his stablemaster Tadahiro Otake told Japanese media ahead of the tournament.
"We want to deal with it by encouraging him to gargle as often as possible and we will be preparing food for him to eat late at night," the 52-year-old former wrestler said.
"He is all prepared. He can grow greater still if he overcomes this trial."
Osunaarashi prays five times a day and does not eat pork. When fellow wrestlers in the Otake stable are served pork cutlet, he is served chicken.
The 189 centimetre (6 feet 2 inches) wrestler is widely thought of as being the first Muslim in the traditional Japanese sport, although the Sumo Association said it could not confirm this.
Osunaarashi, who quit a university accounting degree to become a sumo pro, is still in the second division of 28 wrestlers, ranked below the top flight of 42 senior sekitori.
Of the 70 sekitori, 24 are non-Japanese, including Mongolians Hakuho and Harumafuji, the two top-ranking "yokozuna" who dominate the sport.
Osunaarashi, who weighs 145 kilogrammes (320 pounds), easily won his first two bouts of the tournament, pushing his opponents out of the ring on Sunday and Monday.
Asked about the political upheaval in Egypt, where a military coup has ousted the elected president, Osunaarashi said: "I wish the people will be of one mind."
He said his personal attention was focused on his wrestling.
"What I can do is to do my best on the ring. To realise my dream, I want to train harder than anybody else," he said.