Egyptian Prime Minister Promises Reform, End to Emergency Law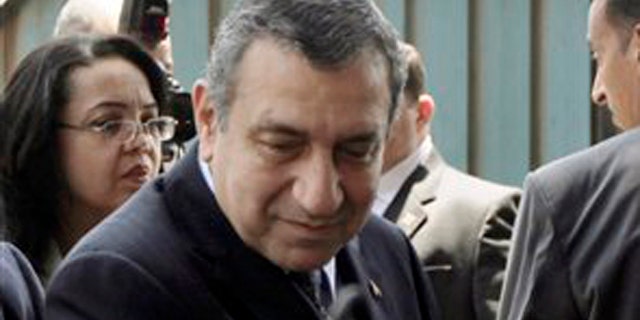 Egypt's prime minister promised to fight corruption Thursday as a new Cabinet was sworn in under under pressure from protesters demanding faster change and the removal of those tied to the ousted regime of President Hosni Mubarak.
Prime Minister Essam Sharaf also said he would work to end Egypt's hated emergency laws, which empower authorities to arrest and detain people without charge.
The new government comes as tensions rise in Egypt over what many perceive as the army's reluctance to act against the former regime. Several hundred protesters have been camping out in
Cairo's central Tahrir Square -- the epicenter of the uprising that ended Mubarak's rule on Feb. 11 -- to try to keep up pressure on the military council ruling the country.
The Cabinet is not expected to remain in office for more than four months, with parliamentary elections slated for October or November.
Sharaf said he would root out the graft and police abuse that were key factors in igniting the revolt against Mubarak. He also the interior ministry would allow human rights organizations to visit prisoners.
Activists welcomed some aspects of the new Cabinet, but said they did not expect it to be a powerful force for change since the military still has to sign off on anything it does.
"This is not a government of the revolution in any way," said Shadi Ghazaly Harb, a protest leader during the uprising who has founded a new political party. "This is a caretaker government and I expect from it the same weak performance we saw from the last government."
Sharaf addressed such criticisms in his address.
"I and the members of the last government know well that the level of performance may not have been at the level that people hope for," he said. "We promise that in the next stage well revise these issues."
The new government has 12 new members and two deputy prime ministers. Thirteen other members kept their jobs.
Field Marshal Mohammed Hussein Tantawi, head of the Supreme Council of the Armed Forces, told the new Cabinet that its job was to restore security, prepare for parliamentary and presidential elections and oversee the writing of a new constitution.
The swearing-in had been scheduled for Tuesday, but it was postponed when the prime minister went to the hospital for exhaustion. He checked out the next day.
In a move likely to upset protesters, Interior Minister Mansour el-Issawi kept his job. Protesters have been calling for his removal, saying he has not done enough to reform the police and security forces.
The Cabinet no longer contains an antiquities minister, a position recently held by Zahi Hawass, who campaigned for repatriation of Egyptian antiques from European museums and was criticized for boosting his own career at the expense of younger archaeologists.
The Supreme Council of Antiquities will now run Egypt's historical sites and report to the prime minister's office.
Also Thursday, an Egyptian court ruled that Mubarak's name -- ubiquitous on libraries, schools and subway stations -- will not be removed from public institutions.
The controversy will likely continue, however, as the case was transferred to an administrative court.
Egyptians have removed the names of Mubarak and his wife Suzanne from hundreds of public facilities since his ouster. Thursday's ruling will not restore them.