Egyptian President Mubarak Names Vice President for First Time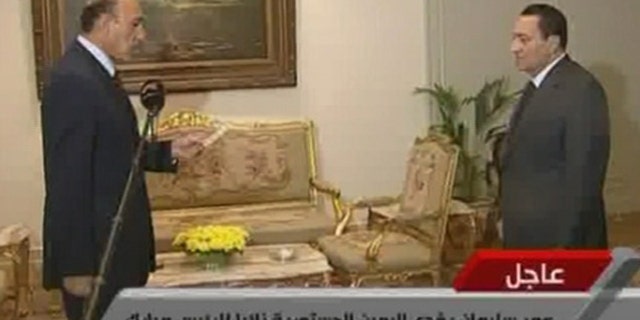 CAIRO -- Egyptian President Hosni Mubarak named a vice president Saturday for the first time since coming to power nearly 30 years ago. It was a clear step toward setting up a successor in the midst of the biggest challenge ever to his rule from tens of thousands of anti-government protesters.
Mubarak named his intelligence chief and close confidant Omar Suleiman, state television reported.
Mubarak was widely seen as grooming his son Gamal to succeed him, possibly even as soon as in presidential elections planned for later this year. However, there was significant public opposition to the hereditary succession.
Suleiman has been in charge of some of Egypt's most sensitive foreign policy issues, including the Palestinian-Israeli peace process and inter-Palestinian divisions.
His appointment as vice president answers one of the most intriguing and most enduring political questions in Egypt: who would succeed the 82-year-old Mubarak?
Like Mubarak, Suleiman has a military background. The powerful military has provided Egypt with its four presidents since the monarchy was toppled nearly 60 years ago.