Egyptian PM: Deadly Riots a Setback to Transition to Civilian Rule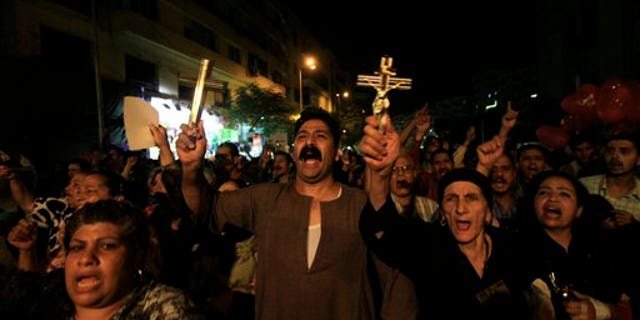 CAIRO – Deadly clashes between angry Christians, Muslims and security forces have dealt a serious setback to Egypt's transition to civilian rule, the country's prime minister said Monday, hours after 24 people were killed in the worst violence since the February ouster of Hosni Mubarak.
Prime Minister Essam Sharaf said the violence, which also left 272 wounded, was part of a "dirty conspiracy" and called on Egyptians to unite in the face of what he called meddling by foreign and domestic hands in their nation's affairs.
"These events have taken us back several steps," Sharaf said in a televised address. "Instead of moving forward to build a modern state on democratic principles, we are back to seeking stability and searching for hidden hands -- domestic and foreign -- that meddle with the country's security and safety."
A military council led by Field Marshal Hussein Tantawi, defense minister of 20 years under the former regime, took over after an 18-day popular uprising forced Mubarak to step down. The military initially pledged to hand back power to a civilian administration in six months, but that deadline has gone by, with parliamentary elections now scheduled to start in late November. According to a timetable floated by the generals, presidential elections could be held late next year.
Christians, who make up about 10 percent of Egypt's 80 million people, blame the country's ruling military council for being too lenient on those behind a spate of anti-Christian attacks since Mubarak's ouster. As Egypt undergoes a chaotic power transition and security vacuum in the wake of the uprising, the Coptic Christian minority is particularly worried about the show of force by ultraconservative Islamists.
Sunday's violence will likely prompt the military to further tighten its grip on power. Already, it said it had no intention to lift the widely hated emergency laws in place since Mubarak first took office in 1981. Tension also has been growing between the military and the youth groups that engineered the uprising, with activists blaming the generals for mishandling the transition period, human rights violations and driving a wedge between them and ordinary Egyptians.
The European Union condemned the violence, with EU foreign affairs chief Catherine Ashton saying it was for Egypt "to protect your people, whoever they are, wherever they come from or whatever belief or faith they have."
Egypt's official news agency, meanwhile, reported that dozens of "instigators of chaos" have been arrested following Sunday's violence, sparked by a recent attack on a church in southern Egypt.
The MENA news agency did not say whether those arrested were Christians or Muslims, but security officials said most of the 24 killed were Christians and that they may have included one or two Muslims. The officials spoke on condition of anonymity because they were not authorized to speak to the media.
Egypt's state television said authorities on Monday stepped up security at vital installations in anticipation of renewed unrest, deploying additional troops outside parliament and the Cabinet. Riot police were also stationed outside the Coptic hospital where most of the victims' bodies are kept. Funeral services are due in the afternoon at the main Coptic Cathedral in Cairo.
The rioting in downtown Cairo had lasted until late into the night, bringing out more than 1,000 security forces and armored vehicles to defend the Nile-side state television building where the trouble began.
The clashes spread from outside the TV building to nearby Tahrir Square, drawing thousands of people to the vast plaza that served as the epicenter of the protests that ousted Mubarak. On Sunday night, they battled each other with rocks and firebombs, some tearing up pavement for ammunition and others collecting stones in boxes.
The clashes did not appear to be exclusively sectarian.
State TV, which has increasingly become loyal to the military, appealed on "honorable" Egyptians to protect the army against attacks as news spread of clashes between the Christian protesters and the troops outside the TV building. Soon afterward, bands of young men armed with sticks, rocks, swords and firebombs began to roam central Cairo, attacking Christians. Troops and riot police did not intervene to stop the attacks on Christians.
Throughout the night, the station cast the Christian protesters as a violent mob attacking the army and public property. At one point, Information Minister Osama Heikal went on the air to deny that the station's coverage had a sectarian slant, but acknowledged that its presenters acted "emotionally."
At one point, an armored army van sped into the crowd, striking several protesters and throwing some into the air. Protesters retaliated by setting fire to military vehicles, a bus and private cars, sending flames rising into the night sky.
The Christian protesters said their demonstration began as a peaceful attempt to sit in at the TV building. Then, the protesters said, they came under attack by thugs in plainclothes who rained stones down on them and fired pellets.
"The protest was peaceful. We wanted to hold a sit-in, as usual," said Essam Khalili, a protester wearing a white shirt with a cross on it. "Thugs attacked us and a military vehicle jumped over a sidewalk and ran over at least 10 people. I saw them."
Khalili said protesters set fire to army vehicles when they saw them hitting the protesters.
Ahmed Yahia, a Muslim resident who lives near the TV building, said he saw the military vehicle plow into protesters. "I saw a man's head split into two halves and a second body flattened when the armored vehicle ran over it. When some Muslims saw the blood they joined the Christians against the army," he said.
Television footage showed the military vehicle slamming into the crowd. Coptic protesters were shown attacking a soldier, while a priest tried to protect him.
In the past weeks, riots have broken out at two churches in southern Egypt, prompted by Muslim crowds angry over church construction. One riot broke out near the city of Aswan, even after church officials agreed to a demand by ultraconservative Muslims known as Salafis that a cross and bells be removed from the building.
Aswan's governor, Gen. Mustafa Kamel al-Sayyed, further raised tensions by suggesting to the media that the church construction was illegal.
Protesters said the Copts are demanding the ouster of the governor, reconstruction of the church, compensation for people whose houses were set on fire and prosecution of those behind the riots and attacks on the church.