Egypt reportedly extends voting in presidential election to third day amid low turnout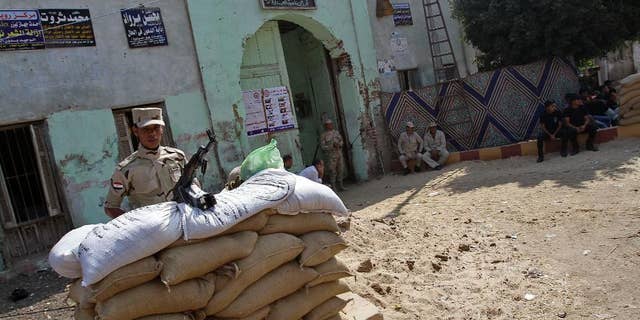 Following lower-than-expected turnout at the polls, Egypt's presidential election reportedly was extended to a third day on Tuesday.
The announcement was reported by the website of state-run newspaper Al-Ahram, according to Reuters.
The government, media and military had harangued voters to go to the polls Tuesday, worried that turnout was weaker than expected in a vote in which the front-runner, former army chief Abdel-Fattah el-Sissi, is trying to garner an overwhelming show of support.
Low turnout would be a heavy symbolic blow to el-Sissi, It would suggest a significant sector of Egyptians — beyond his Islamist opponents — are skeptical of the retired field marshal despite 10 months of relentless adulation of him by the government and media, praising him as the nation's savior and his crackdown on Islamists as part of a war on terrorism.
El-Sissi is poised for an almost certain victory. But he and his backers seek a massive show of public support to send a message to the West — as well as to his domestic opponents — that his ouster last year of Islamist President Mohammed Morsi was not a coup but a popular revolution, similar to the 2011 uprising that ended autocrat Hosni Mubarak's almost 30-year-long rule.
There were no official figures on turnout in the previous day's voting. Monitoring groups said Monday saw only moderate voting, and often thin or non-existent voting in some areas, particularly where Islamists dominate.
On Tuesday, voting appeared even slower than the day before, though a scorching heat wave may have been a factor, with an increase was expected after nightfall.
The campaign of El-Sissi's opponent in the election, leftist politician Hamdeen Sabahi, said its representatives at polling stations estimated turnout Monday at only 10-15 percent. It argued that was a sign of protest from Egyptians fearing el-Sissi will bring back Mubarak-like autocratic policies they sought to remove with the 2011 revolt.
The slow turnout is a "clear message by the people and youth ... rejecting the attempt to bring back old regime policies," his campaign said.
In an unusual move, the chief of staff of the military, Mahmoud Hegazy — an in-law of el-Sissi — visited polling stations in the south and urged voters to come out, saying the stakes are high.
"We are building our nation's institutions," he told reporters. "It won't be a gift from the sky. We must go down and express our opinion. Go down and choose as you please."
After polls closed Monday, many of the numerous TV political talk shows furiously berated people who hadn't voted.
"By sitting at home, they are wasting what we have accomplished the past year ... our war on terrorism," Hayat el-Dardiri on the pro-military Faraeen TV said. "Where are the people?"
A voter called into another station, weeping and saying there were not enough people at her polling station. "Does this respectable man deserve this from us?" she sobbed, referring to el-Sissi.
Egypt's deep divisions were on full display during voting. At some Cairo polling stations, lines of el-Sissi supporters waved Egyptian flags and wore clothes in the national red-white-and-black colors. Men and women, including ones wearing the conservative Muslim veil, danced to pro-military pop songs.
In strongholds of the Brotherhood — which has dominated all other elections since Mubarak's ouster — the polls were virtually deserted, reflecting the group's calls for its supporters to boycott.
The ouster of Morsi came after massive protests demanding his ouster, reflecting how much of the public had turned against him and his Muslim Brotherhood during his year in office. Security forces have since killed hundreds of Islamists and arrested thousands, vowing to eliminate the group. The Brotherhood has persisted with protests, rejecting the political process established after what it calls a coup against democracy.
"Those shocked at the people's abstention (from voting) ... must remember that this people tasted freedom and will not go back and will accept no less and are determined to restore it soon," Mohammed Mahsoub, a member of the Islamist al-Wasat party and of a Brotherhood-led coalition, wrote on his Twitter account Tuesday.
But even among those who supported Morsi's ouster, there have been voices of discontent toward el-Sissi. Some dislike the bloodshed since the ouster. Others are reluctant to see the military dragged into politics. Many of his secular critics see the former army chief as a new Mubarak, especially after his campaign comments insisting that dissent and protest must end to allow stability for the economy to be repaired.
Mostafa Bakri, a former lawmaker and campaigner for el-Sissi, warned that unless big numbers of voters come out, Brotherhood supporters are ready to take advantage and go to the streets to protest
"It will not work to have a presidential candidate win with fewer votes than what the ousted Morsi got ... We must surpass this benchmark," said Bakri on Sada el-Balad TV.
The 2012 presidential election had a turnout of just under 52 percent. Morsi won, garnering around 13 million votes, narrowly beating out Mubarak's last prime minister, Ahmed Shafiq.
El-Sissi supporters on TV presented multiple possible explanations for the thin voting. Temperatures were soaring Monday and Tuesday. Laws make it difficult for people to vote if they are not living in their hometowns. Even beefed up security at the polls — meant to reassure voters — may have intimidated them instead, some argued.
The government tried to beef up turnout. After the first day of voting, it abruptly declared Tuesday a public holiday to give millions of government employees time to go cast ballots and extended voting hours by an hour to 10 p.m. There are roughly 5.5 million government workers in this country of about 90 million people.
Banks and the stock market were also given the day off. Interim Prime Minister Ibrahim Mahlab appealed to the private sector to follow suit.
Election commission officials warned they will implement a rarely applied rule fining all able-bodied voters who do not cast ballots. The fines, set at $72, are a hefty sum for most Egyptians.
In the southern city of Assuit, cars with loudspeakers called on residents to vote. Local officials and senior police officers met with heads of families and local dignitaries to ensure participation and sent buses to ease transportation from villages to polling stations, local officials who attended the meetings said.
Nasser Amin, a member of Egypt's National Human Rights Council — one of the domestic groups observing the vote — said the average turnout from a number of stations he visited in Cairo on Monday ranged between 10 and 12 percent. Local media used a higher figure, estimating that 20 to 30 percent based also on average indicators.
The Associated Press contributed to this report.