Egypt refers Muslim Brotherhood leader to court, says pro-Morsi protests 'unacceptable'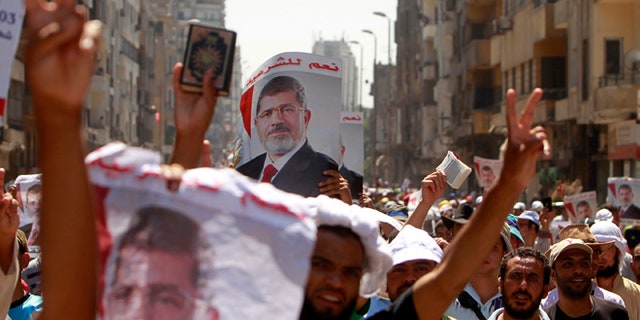 Egypt's interim government referred the Muslim Brotherhood's leader and two other top officials to court Wednesday on charges of inciting violence, calling protests over the ouster of former president Mohammed Morsi an "unacceptable threat."
"The cabinet has decided to take all measures necessary to confront these risks and put an end to them," the government said in a televised statement, according to Reuters.
Information Minister Dorreya Sharaf el-Din said Wednesday that the police are to end the demonstrations "within the law and the constitution."
The comments signal a move to break up the two main pro-Morsi protests -- one outside a mosque in eastern Cairo and another outside the main Cairo University camps -- was imminent.
The three referred to trial are Mohammed Badie, the group's leader who is on the run, his powerful deputy Khairat el-Shater and senior leader Rashad Bayoumi.
They are accused of inciting the killing of at least eight protesters outside the Cairo headquarters of the group.
Meanwhile, a high-level African Union mission met with Morsi in his second meeting with international diplomats this week after nearly a month in secret detention, the head of the delegation said.
Egypt's army has held Morsi incommunicado at undisclosed locations since pushing him from power in a July 3 coup. But the country's military-backed interim leadership is coming under increasing international criticism about Morsi's continued detention, and allowing two visits in quick succession appeared to be an attempt to ease at least some of the pressure on the new administration.
Despite the fact that outsiders have now visited the former president twice in recent days, his location still remains shrouded in mystery. EU foreign policy chief Catherine Ashton met with him on Monday, but said she did not know where he is being held.
The head of the AU delegation, former Mali President Alpha Oumar Konare, also offered no clues on Morsi's location, but told reporters that he had a "very frank meeting" with him. He gave no details of the discussions, which Egypt's state news agency said lasted an hour.
"We had a very good meeting with President Morsi," Konare said. "Permit me not to talk about it for the time being because probably there will be other meetings."
The visit comes on the heels of Ashton's talks with Morsi late Monday, which marked the deposed leader's first contact with the outside world since he was detained. She said that the former Egyptian leader is doing well, and has access to newspapers and television.
The military originally said it was holding Morsi for his own safety. But last week, authorities announced he was being detained pending an investigation into allegations that he conspired with the militant Palestinian Hamas group to escape from prison during the 2011 uprising that toppled autocrat Hosni Mubarak.
Morsi's supporters have called his detention illegal, dismissed the accusations against as politically motivated and are pushing for his immediate release.
A leading Brotherhood member, Essam el-Erian, questioned Wednesday why diplomats have been granted access to Morsi while others have not.
"A second visit after Baroness Ashton to President Morsi from the African Union. When will his family, which is more deserving, visit him?" el-Erian wrote on his Twitter account.
Egypt's military stepped in to overthrow Morsi after four days of massive street protests demanding his ouster. Shortly after the coup, the African Union suspended Egypt's membership in the organization.
Konare, who spoke with reporters at the Arab League headquarters in Cairo, said that decision was not meant "to punish Egypt," but is part of the AU's procedures.
The AU High Panel for Egypt, a special delegation formed by the continental body after the ouster of Morsi, has been in Egypt since the weekend. It has been holding talks with state officials, including the country's interim president and defense minister.
Konare said his team also plans to meet with members of Morsi's Muslim Brotherhood, which has denounced the coup and vowed to keep up its near daily protests until he is reinstated.
"Our mission is to listen to all parties so we can help put an end to violence, preserve rights and liberty and create conditions for dialogue between all parties, because we don't want to have one Egypt against another," Konare said.
The Associated Press contributed to this report.