Egypt pressured Hamas to tone down violent protests after deaths at Gaza Strip, Israel says
Deadly protests at the Israel-Gaza border have waned over the past two days because Egypt has pressured Hamas to stop stoking the violent demonstrations, Israel said Wednesday.
The news comes as a senior Hamas official admitted that 50 of the rioters killed Monday by Israeli soldiers in the Gaza Strip were members of the Islamist militant group.
Hamas chief Ismail Haniyeh and other top Hamas leaders made a trip to Egypt on Sunday, and were told "unequivocally" that Egypt would not tolerate Hamas' continued instigation on the Gaza Strip, Israeli Intelligence Minister Israel Katz said, according to Reuters.
Egypt has acted as a political broker between Israel and Hamas, and has worked with both bitter enemies to fight ISIS.
"Haniyeh returned to Gaza, Hamas gave an order ... and miraculously, this spontaneous protest by a public that could not handle the situation any more dissipated," Katz told Israeli media.
Hamas denied the claim, although Hamas leader Yehya Sinwar told Al Jazeera television that Egypt had expressed interest in improving the conditions in Gaza and avoiding further bloodshed on the border.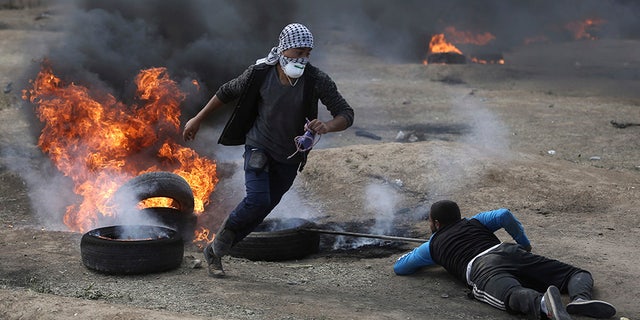 WHY SO MANY GAZA PROTESTERS HAVE LITTLE TO LOSE
At least 60 people were killed, including a baby who died from tear gas inhalation, during a chaotic scene at the Gaza border where Palestinians protested the U.S. Embassy opening in Jerusalem on Monday, according to the Gaza Health Ministry. Israel regards Jersualem as its capital, and Hamas has denied Israel's right to exist at all.
But turnout was dramatically down at the protests the next day, with Gaza health officials reporting that only two Palestinians had been fatally shot on Tuesday, according to Reuters.
"There was no popular protest; this was an organized mob of terrorists organized by Hamas."
And no fatalities were reported on Wednesday, although the Israeli military described a tense confrontation in which it said its troops were fired upon.
Israel maintains that Hamas uses weekly border protests, which have been occuring regularly since March 30, as cover to stage terror attacks.
"It was clear to Israel and now it is clear to the whole world that there was no popular protest; this was an organized mob of terrorists organized by Hamas," Israeli Foreign Ministry spokesman Emmanuel Nahshon said.
WATCH: ISRAELI MILITARY BRACES FOR MORE GAZA CLASHES
Demonstrators say the violent protests are intended in part to draw attention to poor living conditions in the Gaza Strip. Israel and Egypt have maintained a blockade of the Gaza Strip, leaving it in economic ruins, ever since Hamas took control of the region from the Palestinian Authority in 2007.
But the protests appeared to do little to dampen the mood in the White House.
President Trump, who had long promised to relocate the U.S. embassy to Jerusalem, celebrated the embassy opening on Twitter even as the violence unfolded Monday, writing that it was a "Big day for Israel."