Egypt Islamist leader 'faces new murder case'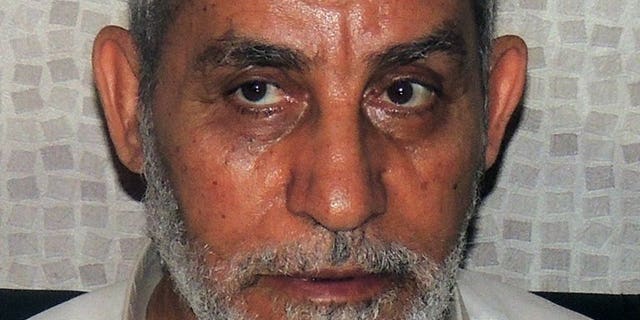 NEWYou can now listen to Fox News articles!
CAIRO (AFP) – Egypt's state prosecutor said Sunday that Muslim Brotherhood supreme guide Mohamed Badie would stand trial in a second case over clashes in which several demonstrators were killed, judicial sources said.
Fourteen people, including several top figures in the Brotherhood, the group from which ousted president Mohamed Morsi hails, will stand trial along with Badie at a date that has yet to be decided, the sources added.
They are to be prosecuted in connection with the deaths of seven people on July 16 on the sidelines of a demonstration in Cairo calling for Morsi's reinstatement.
Among those to be tried with him are senior Brotherhood member Mohammed al-Beltagui, Essam al-Erian, deputy head of its political wing the Freedom and Justice Party, firebrand preacher Safwat Hegazy and Morsi's supplies minister Bassem Ouda.
Badie's first trial, on allegations of having incited the murder of anti-Morsi protesters, is due to resume on October 29.
Along with his two deputies, who are also in jail, he is also accused of involvement in the deaths of protesters who stormed and torched the Brotherhood headquarters on June 30 as millions took to the streets demanding Morsi's resignation.
Since Morsi's overthrow by the army on July 3 and his detention, more than 2,000 members of the Brotherhood have been arrested.
The military-backed interim government also launched a bloody crackdown on pro-Morsi protest camps in August, killing at least 1,000 people in one week, mostly backers of the toppled Islamist president but also dozens of policemen.