Egypt is not replacing US with Russia as top ally, foreign minister says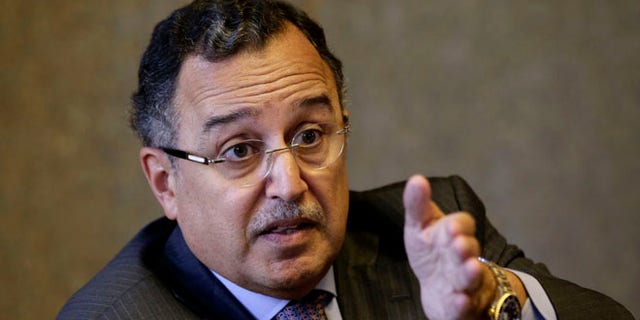 CAIRO – Egypt's foreign minister sought to downplay speculation of a major foreign policy shift, saying during a rare top-level Russian visit on Thursday that Cairo wants to boost ties with Moscow and not replace the United States as its key ally.
The remarks by Nabil Fahmy came after talks with his visiting counterpart Sergei Lavrov, who is leading the Russian delegation to Cairo. It's Moscow's highest-level visit to Egypt in years and includes Russia's defense minister, Sergei Shoigu, whose presence has set off rumors of an arms deal in the making.
Fahmy said he, Lavrov, Shigu and Egyptian Defense Minister Gen. Abdel-Fattah el-Sissi -- who led the popularly-backed coup in July that ousted Egypt's Islamist President Mohammed Morsi -- would jointly meet later Thursday.
Depicting the meeting as an "activation" of existing ties, Fahmy said Egypt hopes for cooperation "in multiple fields" because of "Russia's significance in the international arena."
"We seek to energize a relation that is already in existence," Fahmy told reporters.
When asked whether Russia would replace the U.S. as his country's chief ally, Fahmy said Egypt was not looking for a "substitute for anyone" and that Russia was too significant for such a role.
"Russia has had a relationship with the Egyptian people for dozens of years," Lavrov said, speaking through an interpreter. He described Thursday's meeting as "historic."
The Russian visit comes as Egypt's relationship with the United States -- Cairo's main foreign backer and benefactor since the 1970s -- has become increasingly strained in the wake of the military's ouster of Morsi, Egypt's first freely elected president.
Lavrov also said Russia's supports a return of stability to Egypt -- a reference to the turmoil roiling the country since the 2011 uprising that ousted staunch U.S. ally Hosni Mubarak.
"Russia would like to see a stable Egypt with a prosperous economy and an efficient political system," he said, offering support for a transition-to-democracy plan by Egypt's military-backed rulers, including an upcoming referendum on new constitutional amendments.
The vote is first step in the interim government's fast track plan is aimed at returning to democratic rule by next year.
Egypt was Moscow's closest Arab ally for two decades, starting in the 1950s, with the Soviet Union throwing its weights behind the late nationalist leader Gamal Abdel-Nasser in his ambitious drive to modernize the Arab nation and create a well-armed military at the height of the Cold War and the Arab-Israeli conflict.
But in 1972, then-President Anwar Sadat threw out thousands of Soviet military advisers and realigned the country's foreign policy, taking his nation closer to the United States soon after the 1973 Mideast war.
Egypt's relations with the Soviet Union took a marked turn for the worse after Moscow's invasion of Afghanistan in 1979, but relations have steadily improved in recent years, with hundreds of thousands of Russians vacationing in Egypt every year.
The United States last month froze a big chunk of its annual $1.3 billion military aid to Egypt. The move angered the Egyptians and prompted speculations in the local media that Egypt intended to sign a multi-billion dollar weapons deal with Russia. But there has so far been no official word from Cairo or Moscow on such a deal.
The Interfax news agency recently quoted an unidentified official of the state Rosoboron export arms trader as saying that there are no plans to sign big contracts during the Cairo talks.
It said Egypt has shown interest in purchasing Russian air defense missile systems and MiG-29 fighter jets, combat helicopters and other weapons. But it quoted an unnamed official dealing with arms trade as saying that no big deals are expected in the near future as Egypt currently can't afford it.