Ecuador's Correa begins third presidential term with high popularity, strong majority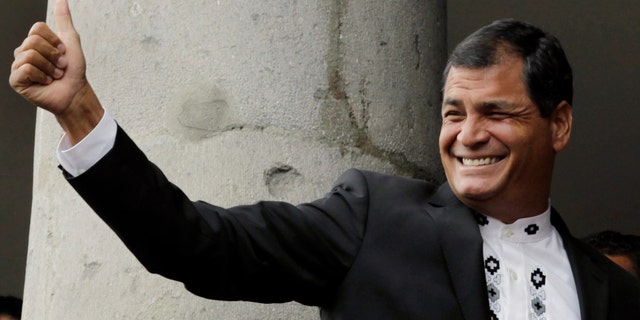 NEWYou can now listen to Fox News articles!
QUITO, Ecuador – Ecuador's Rafael Correa is starting a third term as president under seemingly ideal conditions: extremely high popularity, a more than two-thirds majority in Congress, a stable economy and a badly splintered opposition.
The combative leftist economist being inaugurated Friday has built his popularity on generous social spending in the small, oil-producing nation. He was re-elected in February with three times the votes of his closest challenger. Under the constitution, he cannot run again.
Correa could face trouble if oil prices fall amid flagging global demand, as some economists predict, and if he does not attract more foreign investment, especially in the mining sector.
Correa has been constantly at war with opposition news media. Press freedom activists worry a new media law now before congress will further restrict free expression.