ECB to hold fire on rates, monitor liquidity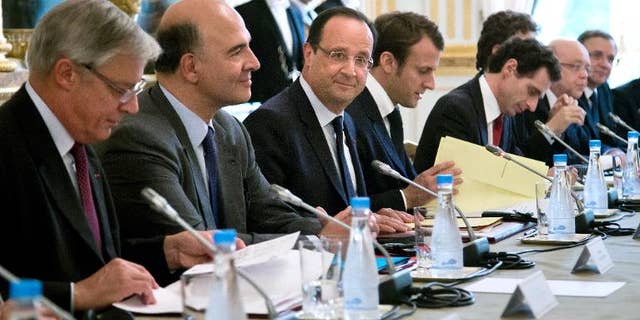 Paris (AFP) – The European Central Bank, at its monthly policy meeting Wednesday, will hold fire on interest rates but will keep a close eye on liquidity conditions in the eurozone, analysts said.
The ECB's governing council is convening in Paris rather than its usual venue of the bank's Frankfurt headquarters. And the meeting has been brought forward to Wednesday as a result of the national public holiday in Germany on Thursday.
ECB watchers are confident that central bank chief Mario Draghi will not announce any moves in interest rates or other policy measures, even if markets may be worried about future liquidity provisioning.
There is "no need for the ECB to change its tune," said Berenberg Bank economist Christian Schulz.
"The eurozone recovery is picking up a bit more pace. Economic sentiment indicators have risen further."
However, inflation has fallen further and "substantial downside risks remain," Schulz cautioned.
Draghi and other policymakers "have emphasised that the eurozone is at a very early stage of recovery. The ECB will make sure not to tighten policy prematurely," he said.
Money market rates have risen recently amid concern about liquidity while economic recovery still remains fragile.
At the bank's last meeting, Draghi said the ECB was "particularly attentive" to such developments.
New ECB data last week showed that lending to businesses in the debt-mired eurozone is continuing to contract sharply.
The ECB already flooded eurozone banks with more than 1.0 trillion euros ($1.35 trillion) in cash via two long-term refinancing operations (LTROs) at the end of 2011 and the beginning of 2012 in a bid to avert a potentially disastrous credit crunch.
And Draghi told a hearing at the European Parliament in Brussels last week that another LTRO could be on the cards.
But ECB watchers believe any fresh liquidity measures will not come just yet.
"For the time being, there is no immediate need for action," said Schulz at Berenberg Bank.
Newedge Strategy analyst Annalisa Piazza agreed.
"No changes in the current ECB policy mix are expected this week," she said.
"Looking at recent data, it looks like a gradual recovery is confirmed in the third quarter and there is no need for further accommodation in ECB policy in the near term. That said, Draghi and other ECB members have often pointed out that the governing council is keeping a close eye on liquidity conditions. And further emphasis on this subject will be put at the meeting," Piazza said.
"We expect Draghi to confirm that the ECB is ready to act on the liquidity front should money market rates spike higher," she concluded.
Marie Diron at EY Eurozone Forecast pointed out that eurozone banks are continuing to repay their previous ECB loans.
"This implies that the eurozone as a whole does not need more liquidity. But there are probably still some pockets of liquidity squeeze which a new LTRO would help ease."
Money market rates in Europe have been rising recently amid talk about a so-called "tapering" or winding down of anti-crisis measures by the US Federal Reserve on the other side of the Atlantic, Schubert believed.
But the US Fed recently sought to counter such speculation by insisting it will keep its foot on the monetary stimulus pedal.
Furthermore, recent economic data for the single currency area had surprised to the upside, also adding to expectations of a possible end to expansive monetary policy.
But Commerzbank economist Michael Schubert believed "the phase of positive data surprises of the eurozone is over."
Speculation of rising rates in Europe was therefore likely to diminish and without those, "there will probably be no new LTRO," he concluded.