Eastern Ukraine city hit by shells during cease-fire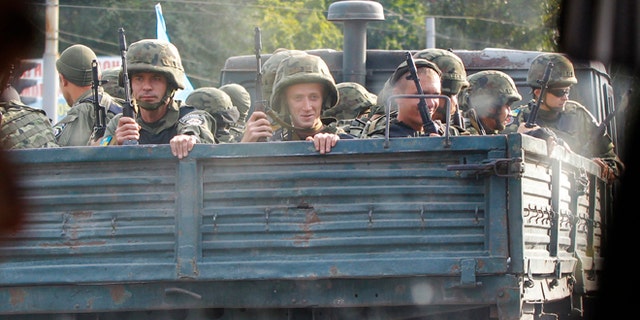 KIEV, Ukraine – Shelling continued overnight in eastern Ukraine despite a cease-fire, injuring one woman, the city council of Donetsk said Tuesday.
The council for the rebel-held stronghold said a school and several residential buildings were hit by shelling, imperiling the already shaky cease-fire between pro-Russian rebels and Ukrainian forces.
Meanwhile, Col. Andriy Lysenko, spokesman for the Ukrainian National Security and Defense Council, told journalists Tuesday that five servicemen had been killed and 33 wounded since the cease-fire was declared on Friday.
Both sides have blamed each other for repeated violations of the cease-fire in the conflict that has killed at least 3,000 people, according to the U.N.
Despite the reported violations, Russian officials on Tuesday sounded hopeful and said that the cease-fire presents an opportunity for a political settlement.
Speaking at a news conference in Moscow, Foreign Minister Sergey Lavrov said Russia is aware of the reports of infringements but referred to his conversations with both the pro-Russian separatists and the Ukrainian government, saying that they are committed to adhering to it.