Earthquake strikes western Turkey, Greek island; one woman killed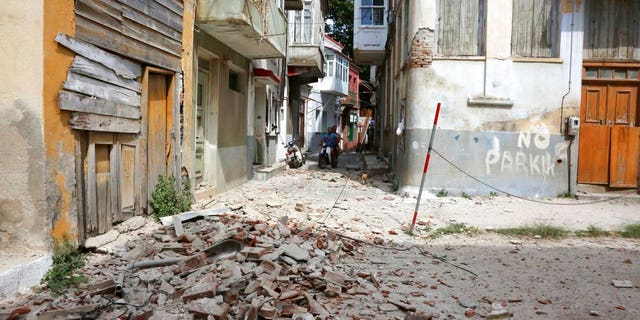 NEWYou can now listen to Fox News articles!
One woman was killed and at least 10 people were injured after a 6.2-magnitude earthquake struck western Turkey and the Greek island of Lesbos on Monday, damaging dozens of homes in the area, authorities said.
The earthquake hit at 3:28 p.m. local time, with the epicenter in the Aegean Sea at the very shallow depth of about four miles, Turkey's Disaster and Emergency Management said. At least 10 people were injured and one woman was found dead in the village of Vrisa, Greek authorities said.
Tremors from the earthquake were felt as far away as Istanbul and Athens, The Sun reported. In Lesbos, roads were closed and dozens of homes were damaged. Video of the aftermath showed debris covering the streets, with walls of buildings completely destroyed. Officials recorded at least 20 aftershocks.
"We are advising residents in affected areas of Lesbos to remain outdoors until buildings can be inspected," senior seismologist Efthimios Lekkas said.
In Turkey, Ayse Selvi, 61, told The Associated Press that she felt the tremors in her summer home in Karaburun near the quake's epicenter.
"My God, all the picture frames fell on the ground and I have no idea how I ran out. I'm scared to go inside now," Selvi said.
Earthquakes are frequent in Greece and Turkey, which are on active fault lines. Two devastating earthquakes hit northwestern Turkey in 1999, killing some 18,000 people.
The Associated Press contributed to this report.