Early results show India's opposition party wins national elections in landslide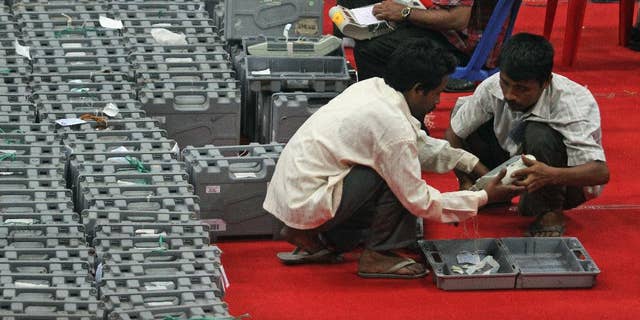 NEW DELHI – India's opposition leader Narendra Modi and his party won national elections in a landslide Friday, preliminary results showed, driving the long-dominant Congress party out of power in the most commanding victory India has seen in more than a quarter century.
The Hindu nationalist Bharatiya Janata Party captured a commanding lead for at least 272 seats in the lower house of Parliament, the majority needed to create a government without forming a coalition with smaller parties.
Full results are expected later in the day but it's unlikely that Modi's party would see a significant reversal, putting him on track to be the next prime minister.
With a note of triumph, Modi tweeted: "India has won!" as the results came out Friday.
Television channels aired footage of an emotional Modi meeting his mother and touching her feet, a traditional gesture when Hindus seek the blessings of an older relative.
His mother then marked his forehead with vermilion and fed him sweets.
The Congress party, which has been at the center of Indian politics for most of the country's history since independence from Britain, conceded defeat.
"We are accepting the people's verdict in all humility," party spokesman Shakil Ahmed told The Associated Press. "Trends of the counting are certainly not in our favor. The trends point out that the country has decided to vote against us."
At BJP headquarters in New Delhi, workers were handing out sweets, setting off firecrackers and dancing outside in the streets. BJP spokeswoman Nirmala Seetharaman said the results were even better than expected.
"That certainly is good news, which we will savor with great delight," she said. "It means that people of India found the (connection) with Narendra Modi."
There was a record turnout in the election, with 66.38 percent of India's 814 million eligible voters casting ballots during the six-week contest, which began April 7 and was held in stages across the country. Turnout in the 2009 general election was 58.13 percent.
Campaigning on promises of a revival in economic growth, Modi and the BJP took advantage of widespread dissatisfaction with the Congress party.
The BJP's slick and well-financed campaign also promised better governance. The Congress-led ruling alliance has been plagued by repeated corruption scandals, and the Congress party's 43-year-old leader, Rahul Gandhi, failed to inspire public confidence.
If the BJP stays ahead of the 272-mark when the final tally is announced it would be the first time a single party has won a majority since the 1984 national election.
Exit polls by at least six major Indian TV stations had predicted a BJP-led coalition would win between 249 and 289 seats in the 543-seat Lok Sabha, or lower house of Parliament.
By Friday afternoon, an exact picture was expected to emerge on what India's next Parliament will look like.
Already on Friday, the benchmark Sensex stock index rose as much as 4.7 percent on news of the BJP's strong showing.
The Nehru-Gandhi family, which has ruled India for all but 10 years since the country won independence from British rule in 1947, was suffering its worst-ever political drubbing.
The Congress party attempted to position Rahul Gandhi as a young leader capable of boosting the country's struggling economy. But many Indians see him as being out of touch with reality. His privileged background has made him appear aloof and removed from the concerns of most people.
In comparison, Modi's campaign was seen by many as a media and marketing coup for a man whose background ties him to bloodshed in his home state of Gujarat, where communal rioting in 2002 left more than 1,000 people dead, most of them Muslims. Modi is accused of doing little to stop the rampage, though he denies any wrongdoing and has never been charged with a crime.
He managed to hammer away at Gandhi — specifically the perception that he is nothing more than a feudal prince from a family that views ruling the country as its birthright.
In sharp contrast to the street parties outside the BJP office, a sober scene played out in front of Congress headquarters, where few showed up despite barricades erected to protect supporters from passing road traffic.
One small group of women sat on the sidewalk, lighting a ritual prayer fire to invoke divine help for the party while a handwritten sign standing by read, "May Rahul Gandhi be the next prime minister."