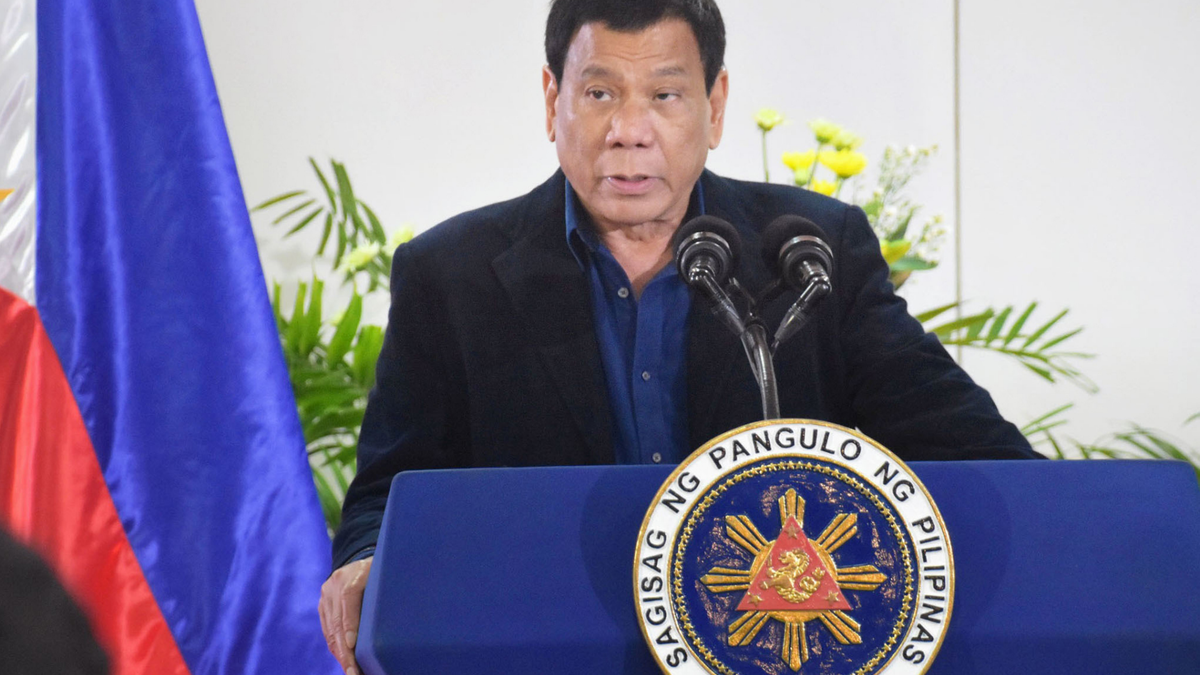 TOKYO – Philippine President Rodrigo Duterte said someone should talk to North Korean leader Kim Jong Un and reassure him that nobody is out to remove him or destroy his country.
Duterte made the comments on Sunday, a day ahead of a visit to Japan, where he hopes to get help with rebuilding the strife-torn southern Philippine city of Marawi. A military campaign recently ended a five-month siege of the city by Islamic State group-aligned militants that left more than 1,100 combatants and civilians dead.
Apart from signing an agreement Monday on details for 1 trillion yen ($8.8 billion) in aid over five years that was agreed to earlier, Duterte said he also expects to discuss the North Korean nuclear threat with Japanese Prime Minister Shinzo Abe as well as with President Donald Trump when he meets him in Manila next month.
The U.S., Japan, South Korea and others need to reassure Kim that nobody is threatening him and to ask him to stop threatening a nuclear attack, Duterte said.
"You must remember that he is a leader of his people," he said, adding that "whatever he proclaims himself to be, somebody has got to talk to him."
"So, if somebody could just reach out, talk to him and say, 'My friend, why don't you just join me in the table and we'll just talk about these things?'" Duterte told reporters in the southern Philippine city of Davao. "Nobody's talking to him."
Duterte echoed Trump in saying he believes China has the greatest leverage with Pyongyang, a longtime Beijing ally. And he expressed concern over the potential for dangerous missteps in the standoff with North Korea over its nuclear program.
"We are worried, all of us, that you know, Murphy's Law, 'If anything can go wrong, it will go wrong.'"
While in Tokyo, apart from talks with government officials, Duterte is due to meet with Japanese business leaders and have an audience with Emperor Akihito and Empress Michiko, where, the blunt-spoken Philippine president said, "I suppose that I have to limit my mouth there."
Duterte praised Japan as a "true friend of the Philippines."
After their talks later Monday, Abe and Duterte were expected to announce a package of Japanese assistance projects over the next five years, including the Marawi reconstruction help and support for the anti-drug effort in the Philippines, a subway system in Metro-Manila, railways and disaster prevention infrastructure, officials in Tokyo said.
"Japan has advanced the news that they will help in rebuilding Marawi," Duterte said. "I think the damage alone and the dimension of the destruction, we would tell Japan that we need their very best in their assistance. I would see significant assistance."
The siege in the southern Philippines displaced some 400,000 residents, including the entire population of Marawi, a bastion of the Islamic faith in the predominantly Roman Catholic Philippines. Military airstrikes, artillery and heavy machine-gun fire turned the lakeside city's central business district and outlying communities into a smoldering wasteland of disfigured buildings and bullet-pocked mosques and houses.
___
Associated Press writers Teresa Cerojano in Manila, Philippines, and Mari Yamaguchi in Tokyo contributed to this report.