Dutch statesman Max van der Stoel dies at age 86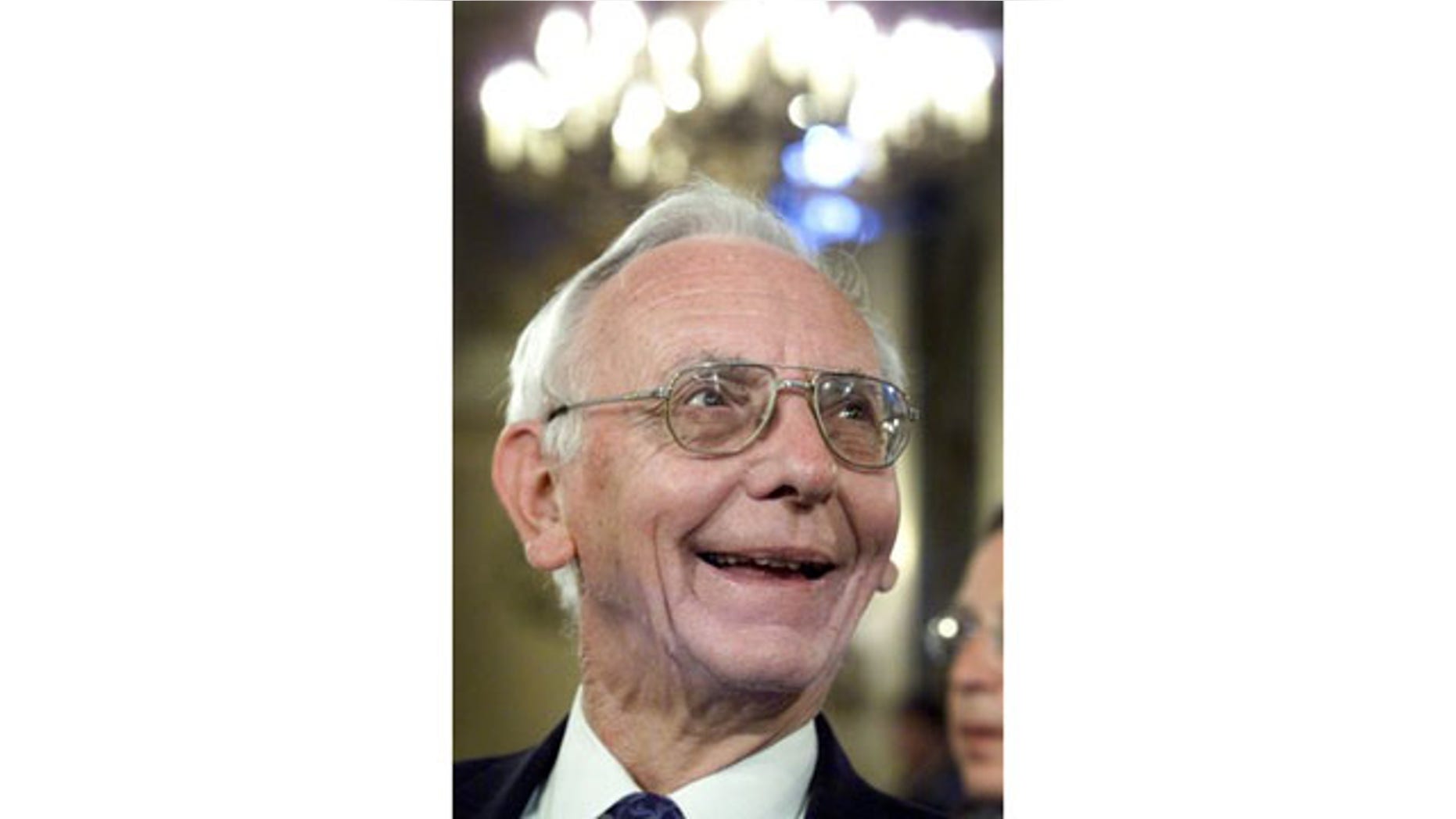 AMSTERDAM – After the first Gulf War, Max van der Stoel was the expression of the world's conscience and a thorn in the side of Iraqi leader Saddam Hussein. Every year for eight years, the former Dutch foreign minister and special U.N. human rights representative wrote stinging denunciations of Saddam's abuses of his people.
"There are no human rights in Iraq," he wrote in one of his reports during the 1990s. Saddam's regime was branding an "X'' on the forehead of deserters, amputating the hands of thieves and killing dissidents.
Van der Stoel, who died Saturday night at age 86 at his home in The Hague, served a dual role for most of that decade as the human rights watchdog for Iraq and as the first High Commissioner on National Minorities at the 54-nation Organization for Security and Cooperation in Europe.
As a top OSCE official he championed Roma, or Gypsies, who he said faced discrimination across Europe; mediated between combative Albanian and Macedonian communities; and sought to smooth tensions in the Baltic countries — newly freed from the collapsed Soviet Union — with their ethnic Russian minorities.
In 2001, the Dutch government called on Van der Stoel's diplomatic skills once more. He was dispatched to Argentina where he successfully dissuaded Jorge Zorreguieta, a minister under that country's former dictatorship, from attending the wedding of his daughter Maxima to the Dutch crown prince. That avoided a major embarrassment for the Dutch government and the royal family.
Prime Minister Mark Rutte said in a statement Sunday that the Netherlands "has lost a human rights icon." Queen Beatrix lamented his death.
"He was one of the special Dutchmen who have made the world a better place," said Job Cohen, leader of the opposition Labor Party.
Van der Stoel became conscious of human rights issues when as a teenager he watched the Nazi army occupy the Netherlands and strip its citizens of their freedoms. His socialism, he said in later years, derived from accompanying his father, a doctor, on visits to poor neighborhoods, where he found the social disparities "embarrassing."
His political career began shortly after the war in 1945 when he joined the Labor Party. He served twice as foreign minister in Labor governments in the 1970s and '80s, and was the Dutch ambassador to the United Nations for three years until 1986.
Out of official office in 1989, he hosted brief secret talks between senior Israeli and Palestinian officials in The Hague, at a time when Israeli law forbade contacts with the Palestine Liberation Organization.
He was appointed U.N. human rights representative for Iraq in 1991, and the following year made his one and only trip to that country. His report, which accused Iraq of brutally stifling political opposition, so angered Iraqi authorities that he was not permitted to return.
His subsequent reports were based on a variety of sources, including Iraqi exiles and opposition groups. Iraq accused him of being a "dishonest observer" who obtained his information from U.S., British and Israeli sources in addition to "traitors and agents."
In his final report in March 1999, Van der Stoel accused Iraq of executing some 2,500 prison inmatesas part of an Iraqi prison cleansing campaign.
Van der Stoel, who was divorced, had one son and four daughters. Funeral arrangements were not immediately announced.