Dutch queen swears in new centrist government under Prime Minister Mark Rutte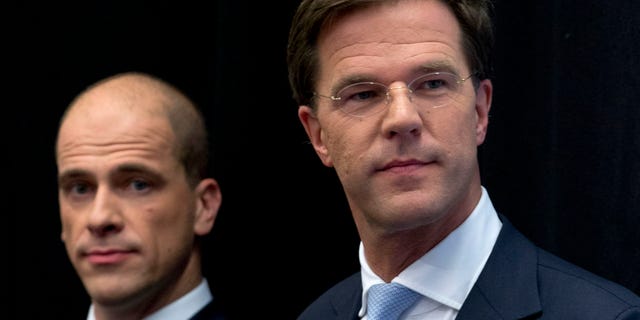 THE HAGUE, Netherlands – Queen Beatrix swore in a new centrist Dutch government under Prime Minister Mark Rutte on Monday, even as the conservative leader faced harsh criticism from members of his own party over a plan to hike health care premiums.
Eight of the 13 Cabinet ministers swore an oath of office to the monarch in the ornately painted Orange Hall of the 17th Century Huis ten Bosch palace in a forest outside The Hague. The remaining five, including Rutte, had already taken the oath before taking office in Rutte's first administration.
The brief ceremony — lasting less than three minutes — was broadcast live on Dutch television and online for the first time.
However the historic broadcast did not go entirely according to plan. The swearing-in had to be carried out twice because it happened too early for national broadcaster NOS.
Members of Rutte's conservative party are fiercely opposed to what is a key element of the governing pact painstakingly negotiated with the center-left Labor Party.
At issue is Rutte's plan to tie health care premiums to people's income — meaning the wealthy will pay more for their health insurance.
Conservatives say the idea is fundamentally against their principles. Rutte has responded by saying that projections circulating in Dutch media of how much people will have to pay are wildly inaccurate.
Halbe Zijlstra, leader of Rutte's party in the Dutch parliament attempted to ease the concerns Monday morning.
"There are calculations and stories flying around about people's spending power dropping by 23-30 percent. I can say that is definitely not going to happen," he told NOS radio.
The row over health care costs overshadowed the first day in office of Rutte's second coalition government.
His VVD party emerged victorious from elections Sept. 12. It agreed after some five weeks of talks — speedy negotiations by Dutch standards — to form a coalition with Labor, which is the second largest party in the 150-seat House of Representatives.
The two parties, have already hammered out a policy blueprint full of austerity measures that aims at slashing government spending by €16 billion ($20.5 billion) by 2017.
That savings package is a clear indication that the Netherlands will continue to follow the lead of fiscally conservative German Chancellor Angela Merkel in the European Union — insisting that nations like Greece and Spain get their government finances in order if they want bailout funds from the EU.
____
Associated Press business writer Toby Sterling in Amsterdam contributed.