Dutch lawmaker Wilders wants hate speech case dropped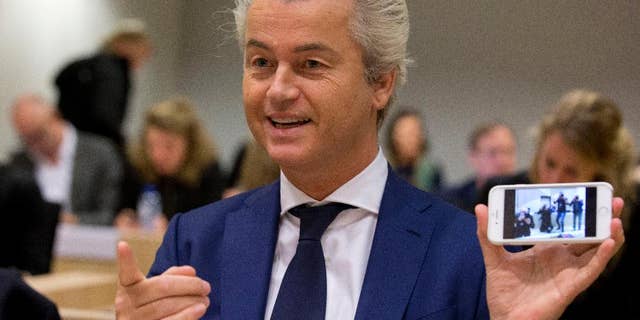 NEWYou can now listen to Fox News articles!
AMSTERDAM – Dutch anti-Islam lawmaker Geert Wilders is appealing for judges to throw out a hate speech case against him, saying it is a political issue that should not be handled in a criminal court.
At a pretrial hearing Friday in a tightly guarded courtroom, Wilders' lawyer Geert-Jan Knoops said "such sensitive questions should be judged in the court of public opinion."
The case against Wilders, who was acquitted in 2011 of insulting Islam, centers on comments made before and after Dutch local elections in 2014. At one party meeting he asked supporters whether they wanted more or fewer Moroccans in the Netherlands, drawing them into the chant of "Fewer! Fewer! Fewer!"
"We'll take care of it," he replied.