Dublin Airport reopens after plane's nose wheel collapses on runway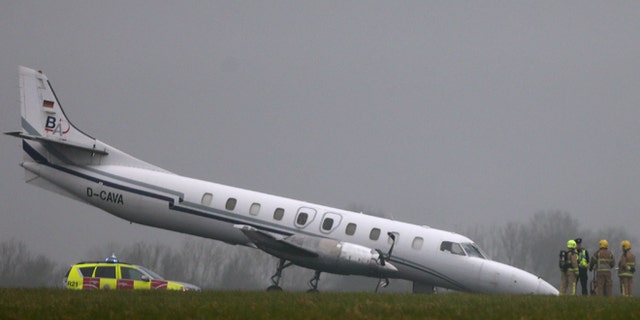 DUBLIN – Flights at Dublin Airport were temporarily suspended Thursday when a BinAir cargo plane's nose wheel collapsed after touching down, the second such landing-gear failure to beset the small German charter airline.
The Dublin Airport Authority said nobody was hurt when the forward landing gear of the Fairchild Metroliner twin-turboprop aircraft failed.
The aircraft, operated by the Munich-based freight carrier BinAir, was carrying two pilots and a cargo of laboratory rats from Kent, southeast England. It thumped to a stop with its nose on the tarmac.
Five inbound flights to Dublin were diverted and dozens delayed as authorities shut the obstructed runway. Unfavorable wind conditions meant it took about a half-hour to open a backup runway.
The flights that had been redirected to Shannon Airport in western Ireland did a U-turn and landed in Dublin. The authority said flight schedules at the airport -- the busiest in Ireland, averaging more than 400 flights daily -- were back to normal by noon.
Thursday's landing-gear mishap was not the first for BinAir, which uses a fleet of about a dozen Metroliner turboprop aircraft and specializes in ad-hoc freight bookings.
In January 2010 a BinAir Metroliner skidded off the runway in Stuttgart, Germany, when the right-side landing gear collapsed upon landing. In that accident, the pilot reported a landing gear fault warning and aborted the initial landing, but ground crew said they could see the landing gear fully deployed. German air safety investigators found it collapsed upon hitting the tarmac.
European Union and German air safety authorities placed BinAir under "intensified" scrutiny, and warned it could be placed on the EU's blacklisted airlines, but the airline retained its operating license after it undertook unspecified actions for (at)verified safety deficiencies," according to an April 2011 report by the European Commission's Air Safety Committee.
BinAir declined to comment. When The Associated Press called the airline's only publicly listed number, labeled a "24-hour hot line," the official who answered wouldn't identify himself by name, said the airline would not be making a statement because "nothing happened," and hung up.
The Fairchild Metroliner itself has had a troubled history. About 700 of the aircraft were built in various variants, chiefly in Texas, from 1972 to 1989. They have suffered a dozen deadly crashes over the past quarter-century, including in Ireland.
In February 2011, six people were killed at Cork Airport in southwest Ireland when a Metroliner operated by an Isle of Man airline, Manx2.com, clipped a wing on the tarmac and flipped onto its back while trying to land in heavy fog. That was the first deadly crash of a commercial airline flight at an Irish airport.