Drug Debate Takes Center Stage at UN as Latin American Leaders Speak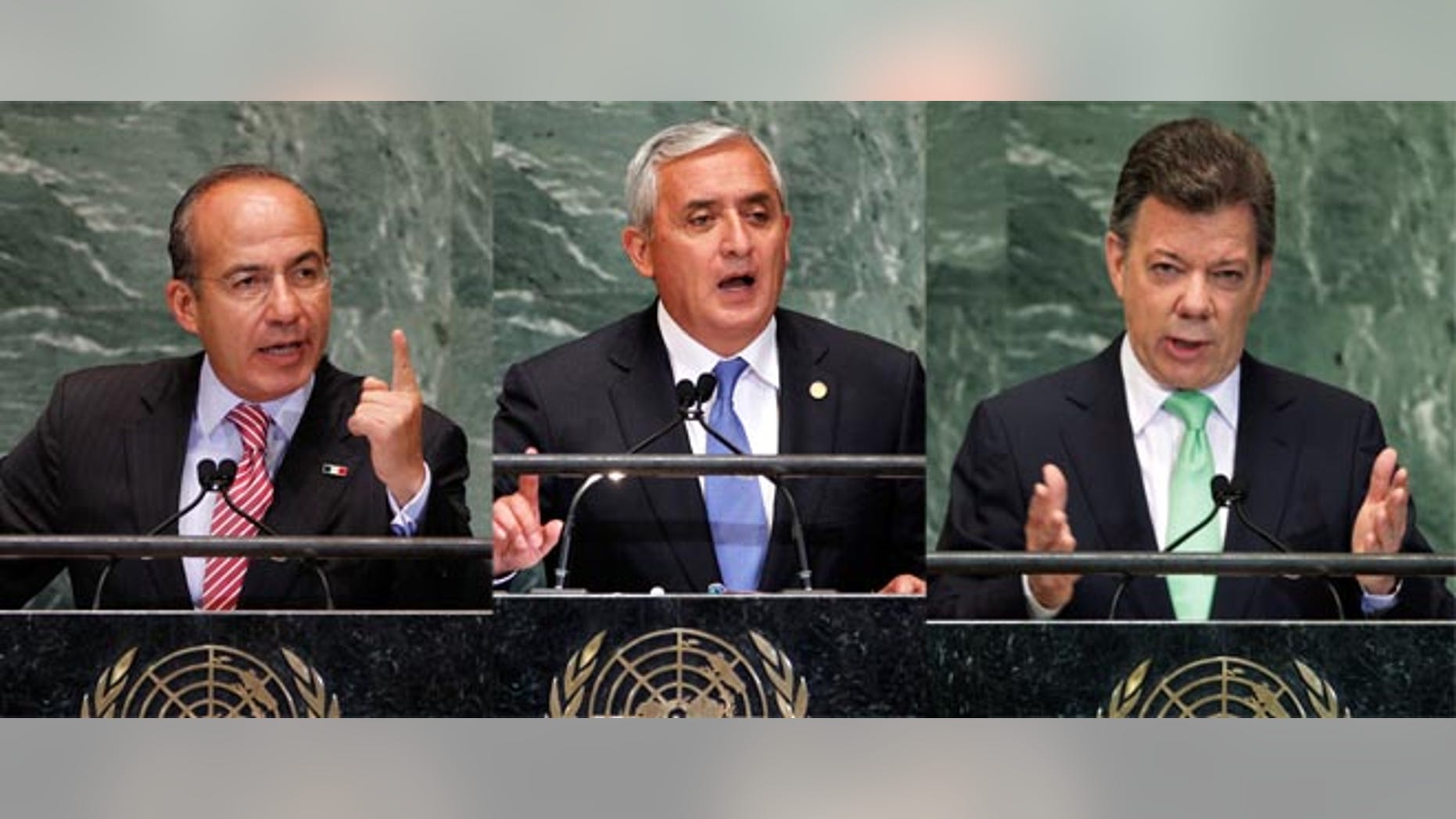 UNITED NATIONS – Drug trafficking was the key topic of discussion on Wednesday as the leaders of Latin American nations hit hard by the trade called for a debate on alternative ways to combat drug trafficking.
In an unusually energetic address to the annual opening of the U.N. General Assembly, Mexican President Felipe Calderón insisted the world body must do more if developed nations that use "tons and tons of drugs" cannot reduce consumption.
More than just analyze the problem, the United Nations should head "a profound international debate" about ways to cut down on trafficking, he said.
If this consumption cannot be reduced, it is urgent that decisive actions be taken.
The presidents of Colombia and Guatemala also urged the world body to explore alternatives to the traditional "war on drugs." Guatemala's leader had been expected to repeat his call for drug legalization to be considered, but he did not explicitly mention it.
Calderón's speech was his last to the U.N. as Mexico's head of state. President-elect Enrique Peña Nieto takes office Dec. 1.
During his six years in office, Mexico's president has waged an offensive against drug cartels, and at least 47,000 people have died in drug-related violence, most of them as a result of fighting among the cartels.
Calderón's speech characterized organized crime as a principal cause of death and "one of the greatest threats to democracy in the 21st century."
He urged drug-consuming nations to "evaluate with all sincerity, and honesty, if they have the will to reduce the consumption of drugs in a substantive manner."
"If this consumption cannot be reduced, it is urgent that decisive actions be taken," Calderón said.
Colombian President Juan Manuel Santos also called for a debate looking at alternatives to the traditional "war on drugs," saying the discussion "must be frank, and without a doubt, global."
"It is our duty to determine — on objective scientific bases — if we are doing the best we can or if there are better options to combat the scourge," Santos said.
Guatemalan President Otto Pérez Molina in the past has called for legalization of drugs as one possible alternative, but did not go that far in his U.N. address.
Instead, Pérez Molina said his government "would like to establish an international group of countries that are well disposed to reforming global policies on drugs" and would consider "new creative and innovative alternatives."
"We must seek new avenues with responsibility and perseverance, with the cooperation of all: producing, consuming and transit countries," he said.
Based on reporting by the Associated Press.
Follow us on twitter.com/foxnewslatino
Like us at facebook.com/foxnewslatino