Driver Blamed for Death of Cuban Dissident, Authorities Say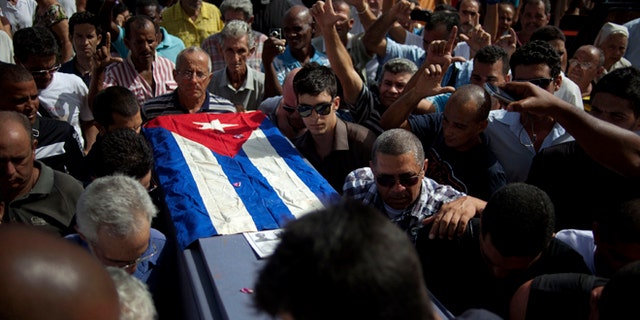 Havana – Driver error is what caused the death of a prominent island dissident, Cuban authorities said and added that the Spanish man behind the wheel was speeding and braked too quickly upon entering an unpaved construction zone, causing the vehicle to careen out of control.
An Interior Ministry statement aired on the afternoon news also said government opponent Oswaldo Paya and Harold Cepero, another, lesser-known dissident who also died in Sunday's crash, were not wearing seatbelts and were in the back of the car, which sustained the brunt of the impact when it hit a tree at high velocity.
Still, photographs broadcast with the report and posted on government-run websites showed a blue subcompact Hyundai Accent with rental car plates, its rear half crumpled. Driver Angel Carromero and Swedish citizen Jens Aron Modig, who were riding up front, suffered only minor injuries.
Authorities are continuing their investigation and evaluating whether a criminal case may be warranted under Cuban law, the statement concluded.
Cuban media seldom report on either the dissidents or traffic accidents, and the 1,200-word notice read verbatim on state TV and simultaneously emailed to foreign journalists appeared aimed at countering speculation about possible foul play and unconfirmed reports that a second vehicle might have been pursuing the car or forced it off the road.
Cuba said from the outset that it was a single-car accident, but dissidents and family members nonetheless demanded a transparent investigation.
Based on witness reports, an analysis of the travelers' timetable and forensic evidence from the car and the scene, investigators concluded that Carromero must have been driving at more than 75 mph (120 kph) when he entered the highway section under repair. Cuban traffic laws set a speed limit of 37 mph (60 kph) for unpaved road.
The Interior Ministry notice said visibility was good and there was a sign warning of the upcoming construction zone, though Carromero told police he didn't remember seeing one.
"Upon realizing that he was driving over gravel, he tried to slow down by braking brusquely and the car began to skid sideways until it impacted against the tree," the ministry statement said.
Modig said he was sleeping in the passenger's seat and only awakened when the vehicle abruptly braked and fishtailed, and he lost consciousness on impact.
Both Europeans have been given consular access from their respective embassies, but neither has spoken to the news media.
Paya, 60, was a leading government opponent who in the late 1990s and early 2000s headed up the Varela Project, which gathered thousands of signatures calling for political and economic change.