Dozens reportedly killed after massive earthquake hits Iran-Pakistan border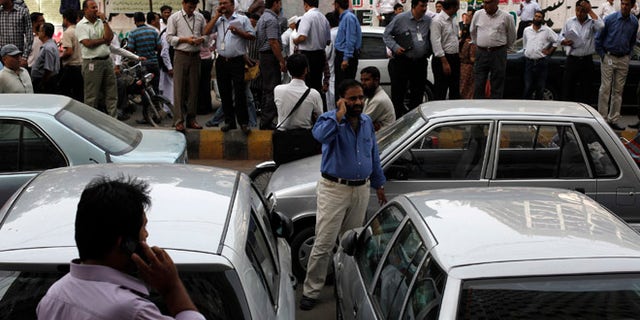 A Pakistani military official says 34 people were killed after a massive earthquake hit the Iranian-Pakistan border region Tuesday, according to the Associated Press.
The U.S. Geological Survey put the preliminary magnitude of the earthquake at 7.8 and at a depth of nine miles, and Iran's seismological center said it was centered near Saravan, a sparsely populated area about 26 miles from the Pakistani border.
At least 80 people were injured in Pakistan, according to a military official. All of the dead and injured so far were in the Pakistani town of Mashkal, the Associated Press reports.
Up to 1,000 mud homes reportedly were damaged in the quake. Pakistani news channels showed buildings shaking in the southern city of Karachi, where panicked residents ran out of offices and homes.
Hatam Narouyi, the provincial governor of the southeastern Sistan and Baluchistan region in Iran where the earthquake struck, said there were no casualties, Reuters reports.
Earlier, Iranian state-run Press TV said at least 40 were killed in the earthquake.
Iran's Red Crescent said it was facing a "complicated emergency situation" in Sistan and Baluchistan, where villages are scattered over desolate hills and valleys. A resident in the quake zone, Manouchehr Karimi, told The Associated Press by phone that "the quake period was long" and occurred "when many people were at home to take a midday nap."
Iranian state TV said power and communications systems were down in the province.
The quake struck less than a week after a magnitude-6.1 quake hit near Bushehr, on Iran's Persian Gulf coast, killing at least 37 people and raising calls for greater international safety inspections at the country's long energy-producing nuclear reactor.
The Russian company that built the Bushehr plant said the Tuesday earthquake did not damage the facility, Reuters reports.
The quake was also felt over a vast area from New Delhi to Gulf cities that have some of the world's tallest skyscrapers, including the record 2,717 -foot Burj Khalifa in Dubai. Officials ordered temporary evacuations from some high-rises as a precaution.
In a message posted on Twitter, British Foreign Secretary William Hague sent condolences to families of those lost in the Tuesday Iran earthquake.
In 2003, some 26,000 people were killed by a magnitude-6.6 quake that flattened the historic southeastern Iranian city of Bam.
The Associated Press contributed to this report.