Dozens Killed in Bombing in Northwest Pakistan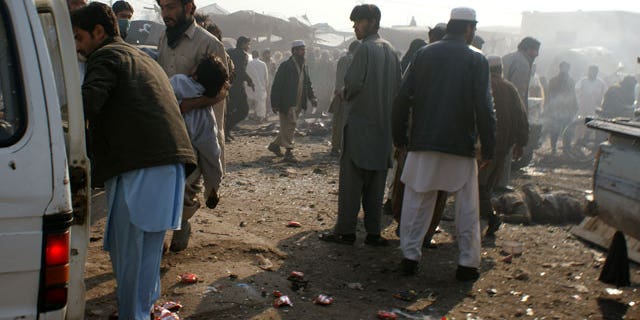 PESHAWAR, Pakistan – A bomb targeting a militia opposed to the Pakistani Taliban exploded in a market close to the Afghan border Tuesday, killing 25 people in the deadliest blast in the country in several months, officials said.
The explosion, likely detonated by remote control, hit vehicles being used by the militia in the Khyber region, said local security officer Khan Dad Khan. It also wounded 24 people, said local government official Iqbal Khan.
Shopkeeper Sharif Gul said the blast ignited a huge fire.
"People were burning," he said at a hospital in Peshawar, the main town in the northwest. "There was nothing to put out the fire."
The army has supported the formation of anti-Taliban militias in northwest Pakistan, but the insurgents have ruthlessly attacked the groups over the last two years. Many of the country's bloodiest bombings have been against militia members or their families.
Islamist militants with links to al-Qaida have carried out hundreds of bombings in Pakistan since 2007, killing many hundreds of soldiers, police, government officials and civilians.
The Pakistani army has carried out offensives against the militants in their strongholds in tribally administered regions like Khyber, but the insurgents have proven to be a resilient foe. There have been conflicting reports of peace talks between some insurgent factions and the government in recent months.
While the frequency of large-scale attacks outside of the northwest has decreased over the last 18 months, the violence has triggered fears in the West that nuclear-armed Pakistan may be buckling under extremism.
The last major bombing was in September close to the Swat Valley, when a suicide bomber hit a funeral of a tribal elder opposed to the Taliban, killing 31 people.