Dozens Injured as Yemeni Forces Fire on Protesters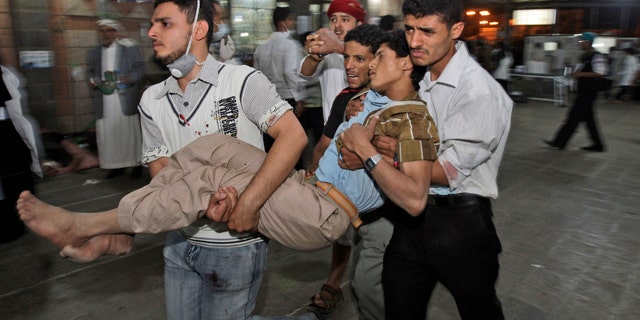 SANAA, Yemen -- Yemeni police trying to disperse thousands of anti-government protesters in two cities Thursday wounded 45 people, some by gunfire, according to witnesses. In one of the cities, protesters overran a government building.
In the southern city of Taiz, police fired live ammunition and rubber bullets to disperse demonstrators there, injuring 40 people, said field doctor Sadeq al-Shujah.
Taiz has been a hotbed of anti-government protests. Activist Nouh al-Wafi said crowds seized control of the Oil Ministry building and hung a banner over the entrance on Thursday that said "Closed until further notice by order of the youth revolution."
Activist Mohammed al-Amari said five other protesters were wounded in the central city of Bayda.
Protesters have been demanding the resignation of longtime President Ali Abdullah Saleh in weeks of demonstrations, some involving tens of thousands of people. Saleh has been clinging to power, warning that if he leaves without an orderly succession, the al-Qaida branch in Yemen will take advantage of the resulting chaos.
Saleh torpedoed a mediation effort last month that appeared to be close to resolving the crisis. Yemen's powerful neighbors in the Gulf Cooperation Council put together a package that offered Saleh to name his own successor, avoid prosecution and step down in 30 days. Opposition leaders grudgingly accepted it, but at the last minute, Saleh refused to sign.
On Thursday the U.S. State Department called on Saleh to resurrect the deal and, in the meantime, stop firing on protesters.
"We call on the Yemeni security forces to exercise maximum restraint, refrain from violence and respect the rights of the Yemeni people to freely and peacefully assemble and express their views," spokesman Mark Toner said in a statement.
Toner praised a Tuesday appeal from the GCC nations for implementation of their plan to resolve the Yemen dispute. "We call on the parties to sign and implement the terms of the agreement now to ensure an orderly, peaceful transition of power," Toner said. "This transition must begin immediately."