Donald Trump Plans Huge Towers In Rio For Post-Olympic Building Boom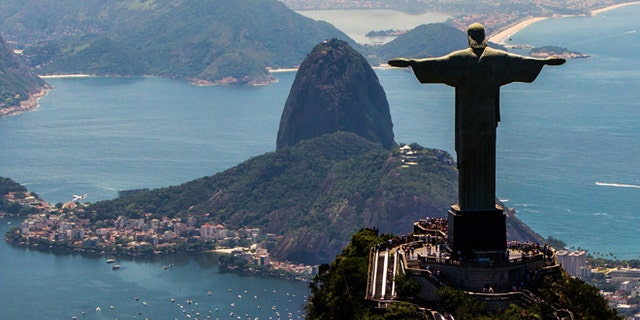 When the construction for Brazil's Olympic stadiums and venues finishes in the next few years, builders in the South American nation won't be packing up their tools right away.
Not if Donald Trump's real estate empire has its say, that is.
The $2.1 billion Trump Towers Rio plans to offer Brazilian builders work after construction for the 2016 Olympics in Rio de Janeiro is completed.
The São Paulo-based Even Construtora & Incorporadora SA (EVEN3) has first rights of refusal for three of the five towers in the massive luxury building project, and construction on at least two of those is already slated to begin sometime later this year.
"There is a tremendous need for a project of this size and caliber as Rio de Janeiro has one of the lowest office vacancy rates in the world," Donald Trump Jr. said in an e-mail to Bloomberg. "With extensive research conducted by our leasing agent, Cushman & Wakefield, we are pleased to confirm that Trump Towers Rio is currently the largest urban office complex in the BRIC Countries."
The development of the Trump Towers will coincide with the effort to revamp Rio's downtown port area into a business and residential hub. Along with the new construction of buildings, the area will soon have a new road network and a light-rail system.
Rio de Janeiro has struggled with a shortage of housing in recent years, and while the cost of the luxury digs may be way out of the range of most of the city's residents, those involved with the project see the Trump project as a boon in an area that often is overlooked by foreign construction firms.
"This will be exactly the time when the major construction events for the Olympics will be winding down, so developers will be past their most occupied days," Stefan Ivanov, chief executive officer of the project, told Bloomberg. "It will be perfect timing for them."
Ivanov added that he hopes that most of the occupants of the soon-to-be-built towers will come from large Brazilian and international corporate tenants attracted to the changing face of the city's port.
Across the street from the proposed Trump Towers, a 1,330-unit residential tower that will house visiting media and staff for the Olympics is under construction by Solace, a consortium of Brazilian construction and engineering firms.
Follow us on twitter.com/foxnewslatino
Like us at facebook.com/foxnewslatino