Dominican Narco Nana Busted At New York Airport For Smuggling Drugs In Wheelchair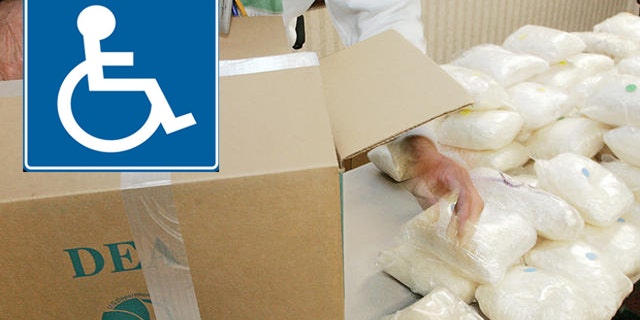 A Dominican grandmother rolled right off an airplane in New York and in the hands of authorities when she was nabbed for smuggling heroin and cocaine hidden inside a rickety wheelchair.
Fior Daliza García came off JetBlue flight 838 from the Dominican Republic at New York's John F. Kennedy airport and immediately drew the attention of Customs Inspectors. The 58-year old wheeled up to customs appearing ill at ease in her "newly painted" wheelchair, according to a complaint filed in Brooklyn Federal Court.
Federal authorities escorted García to a private room and switched her drug-packed wheelchair for another one. While the search of her luggage came up clean, authorities then turned their eyes toward the wheelchair.
"During the subsequent search, CBP officers lifted (Garcia's) wheelchair and noticed that it was unusually heavy and flimsy," U.S. Homeland Security special agent Edward Romeo stated in the complaint, according to The New York Daily News.
As law enforcement officers went over the wheelchair, they uncovered a quantity of heroin and cocaine stashed in the "body" of the device. Authorities have not released the amount of drugs seized or the estimated street value of the cocaine or heroin.
For her part, García –a grandmother from Boston– said the she was being paid $12,000 for smuggling the drugs here from the Dominican Republic.
One of the busiest airports in the U.S., JFK has seen its fair share of odd drug busts on its premises.
Earlier this year, two women from the Bronx were busted smuggling six and a half kilos of cocaine hidden in diapers under their pants on a JetBlue flight from the Dominican Republic. The "butt smugglers" were caught when drug-sniffing dogs at the airport went berserk near them.
In 2007, 18 airline employees were arrested for helping smuggle drugs through JFK in a sting that netted a seizure of 46 kilograms of cocaine, 25 kilograms of heroin, and three kilograms of MDMA, also known as ecstasy.
Follow us on twitter.com/foxnewslatino
Like us at facebook.com/foxnewslatino