Documents show Polish anti-Communist leader collaborated with regime, official says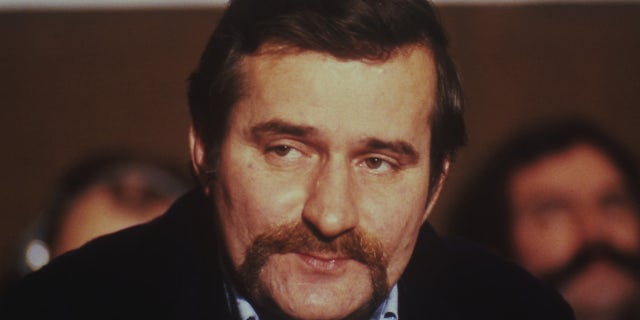 NEWYou can now listen to Fox News articles!
WARSAW, Poland – Recently seized documents show that Poland's former president and Solidarity founder Lech Walesa was a paid informant for the communist-era secret security service from 1970-76, the head of Poland's history institute said Thursday.
A legend of Poland's successful struggle to topple communism, Walesa has previously acknowledged signing a commitment to be an informant, but has insisted he never acted on it. In 2000 he was cleared by a special court, which said it found no evidence of collaboration.
The head of the state National Remembrance Institute, Lukasz Kaminski, said that documents seized this week from the home of the last communist interior minister, the late Gen. Czeslaw Kiszczak, include a commitment to provide information that is signed with Walesa's name and codename, "Bolek." There are also pages of reports and receipts for money signed by Walesa.
Walesa, 72, speaking from Venezuela where he is traveling, suggested the papers are fake.
"There can exist no documents coming from me. I will prove that in court," he said.
The 279 pages of documents seem to be authentic and will be made public in due course, Kaminski told a news conference. He said historians need time to analyze the content of the documents.
Five more packets of seized documents have not yet been opened, he said.
Communism and Moscow's control were imposed on Poland and other countries in the region after World War II and were despised and opposed by most people. Secret security was the regime's harsh tool for keeping the people under control, using personal information to blackmail and discredit opponents and dissidents.
The secret service also used to fabricate information on people, a fact that calls for meticulous confirmation of the authenticity of any compromising documents that emerge. The fate of the files was a major concern after the communists lost power in 1989, with reports saying that they were fabricating new documents and burning or hiding others.
The papers concerning Walesa came to light on Tuesday, when Kiszczak's widow offered to sell the institute documents concerning secret informer "Bolek." She demanded $23,000.
Prosecutors seized the documents the same day, because the law requires important historic papers to be handed in.
Walesa was the icon of Poland's and Eastern Europe's drive for freedom that abolished communism and brought down the Iron Curtain in 1989, without bloodshed. He founded and led Solidarity from 1980, when it was born out of worker protests, through communist-imposed martial law. He was Poland's first popularly elected president from 1990 to 1995.