Doctors say contaminated floodwater threatens more deaths in Kashmir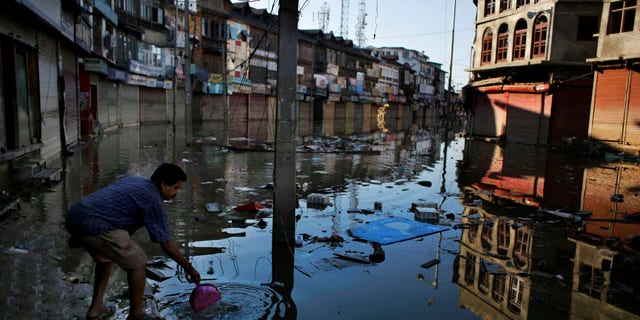 NEWYou can now listen to Fox News articles!
SRINAGAR, India – Doctors in the flood-ravaged Himalayan region of Kashmir said Wednesday that they were seeing outbreaks of gastroenteritis among people crowded into shelters after their homes were inundated two weeks ago.
Patients were also dying due to a lack of basic medical equipment, Dr. Tariq Ahmed Tramboo said. Many hospitals were engulfed when the floods swamped more than 80 percent of Indian-controlled Kashmir's main city of Srinagar.
"As I was examining a 1-year-old child who could barely breathe, he died right there in my lap because there was no oxygen to give him," Tramboo said. He still doesn't know the cause of the child's illness, with many of the region's diagnostic facilities having been destroyed.
"This is clearly an alarming situation," he said.
The floods engulfed much of Kashmir two weeks ago, leaving hundreds of thousands of people homeless in both the Indian- and Pakistani-administered areas of the disputed territory. Thousands of villages have also been hit in Pakistan's Punjab province.
The region has been left littered with garbage, debris and countless bloated cows, chickens and dogs floating in the floodwaters. The stench of rotting flesh hangs heavy in the air.
On Tuesday night, local officials were loading dead cows from an Indian army dairy farm onto trucks. Srinagar's chief sanitation officer, Manzoor Ahmed, said they would be taken to "a patch of land outside the city where we will be doing deep, mass burial of these dead animals."
Even with some waters receding, a large volume remained Wednesday. Officials have said it could take months to clear all standing water and debris. The government and private donors have been sending water purification tablets, water pumps and other systems to clean water.
Tramboo said he has seen at least 20 children in the last two days with stomach ailments resulting from dirty, stagnant water, including four who "vomited on my table while being examined."
Most had come from shelters in Srinagar, but some were coming from dry lands previously deemed safe -- suggesting stomach illnesses were spreading beyond the shelters.
Dr. Nazir Var, a pediatrician who has also seen dozens of children with stomach sickness, said there was still little coordination in efforts to treat the ill, with many doctors, nurses and aid workers operating independently and apart from the government. He said they urgently needed ways to diagnose patients with communicable diseases, so as to stop the spread of illness.
"It's a very thin line now. We have cholera and other plagues knocking at our doors," Var said.