Doctor says former F1 champion Michael Schumacher is 'fighting for his life'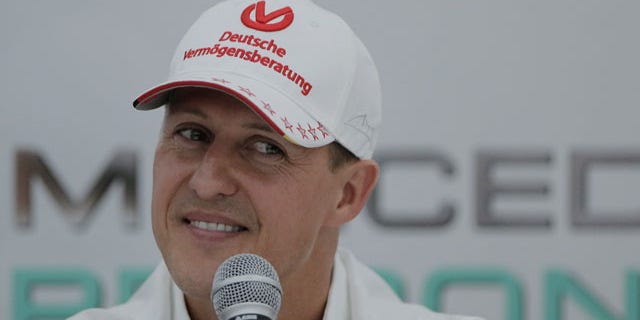 Seven-time Formula 1 world champion race car driver Michael Schumacher remained in critical condition and was "fighting for his life" Monday after suffering head injuries in a skiing accident in France.
Chief anesthesiologist Jean-Francois Payen told reporters Monday that the seven-time champion is still in a medically-induced coma and said "We cannot tell you what the outcome will be yet."
"He is in a critical state in terms of cerebral resuscitation," he added. "We are working hour by hour."
Schumacher suffered the injuries Sunday morning while skiing at the Meribel resort in the French Alps. He was taken to University Hospital in Grenoble, France, where he underwent surgery immediately upon arrival.
The Grenoble medical team was being very cautious about Schumacher's prognosis. Working to relieve the pressure on his brain, they lowered his body temperature to between 93.2 to 95 degrees Fahrenheit as part of the medically induced coma.
The hospital said Schumacher was wearing a helmet when suffered his fall.
The area where Schumacher was skiing is part of a web of trails that slice down through a vast and, in parts, very steep snowfield. Although challenging, the snowfield is not extreme skiing. The runs are broad and neatly tended, and the ungroomed area in between, known as off-piste — where the resort said Schumacher was found — is free of trees.
The resort said Schumacher was conscious when first responders arrived, although agitated and in shock. But Payen said Monday that after the fall Schumacher was not in a "normal state of consciousness." He was not responding to questions and his limbs appeared to be moving involuntarily.
In an email to The Associated Press, Schumacher's manager Sabine Kehm said the retired driver was on a private skiing trip and "fell on his head."
"We ask for understanding that we cannot give running updates on his condition. He wore a helmet and was not alone," Kehm said. Schumacher's 14-year-old son was skiing with his father when the accident happened, the resort said.
His wife and other family members are by his bedside.
"The family is not doing very well obviously. They are shocked," Kehm said, who added that the family still appreciated the outpouring of support.
Ferrari, which Schumacher raced for, expressed its concern in a statement.
"Everyone at Ferrari has been in a state of anxiety since hearing about Michael Schumacher's accident," it said, adding that company president, Luca di Montezemolo, and race team leader, Stefano Domenicali, were in contact with the family.
Schumacher has been seriously hurt before. He broke his leg in a crash at the Silverstone race course in 1999. He also suffered serious neck and spine injuries after a motorcycling accident in February 2009 in Spain.
Gerard Saillant, a trauma surgeon who operated on Schumacher when he broke his leg in the 1999 crash, was at the hospital as a visitor. He told reporters that Schumacher's age — he turns 45 on Jan. 3 — and his fitness should work in his favor.
Schumacher retired in 2006 after winning five straight titles with Ferrari following two earlier ones with Benetton. He came back to the sport in 2010 and drove for three seasons for Mercedes without much success before retiring again last year.
The Associated Press contributed to this report.